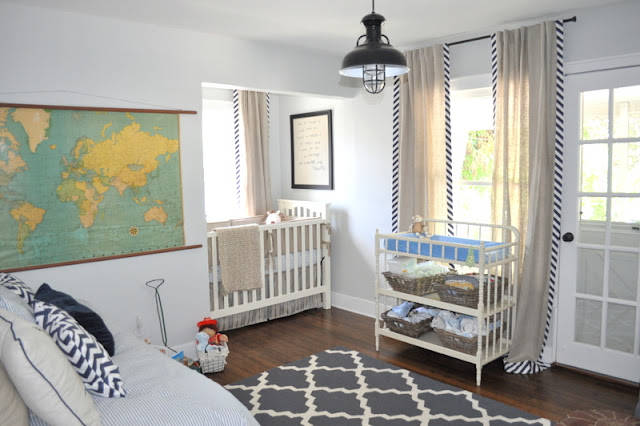 Featured Customer | Barn Pendant Adds Rustic Touch of Texas to Nursery
When Emily of Houston was expecting her first child, she and her husband wanted the nursery to be a relaxing space full of meaningful items for a baby boy. Along with handmade curtains and bedding and an embroidered verse over the crib, the couple chose to highlight the nursery with a rustic Laramie Pendant from the Barn Pendant Lighting collection at Barn Light Electric. We talked with Emily about creating this special space.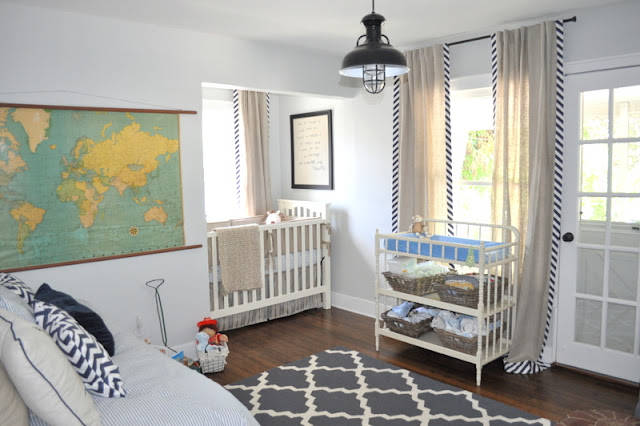 Q: What was your inspiration for the nursery?
A: I really wanted the nursery to be a modern, yet vintage space filled with touches of rustic elements. I gathered lots of inspiration from some of my favorite blogs and of course Pinterest!
Q: Why did you choose this style of pendant lighting for the room? And why these particular finish options? (Emily chose a 12″ Laramie with a black finish, cast guard and clear glass.)
A: I chose this style of light because I felt that it fit my vision of vintage/modern/rustic perfectly. I love the simplicity of the pendant light yet the functionality and lines are perfect for our son's nursery. The color was a perfect match to all the hardware we chose for the room.
Q: How did you find Barn Light Electric?
A: I found Barn Light Electric through the Holly Mathis Interiors blog. I visited your website many times before it was time to design the nursery and was very excited to find what I felt was the perfect match for my vision!
Q: Now that the room is complete, what do you like best about it, other than a sweet baby boy in the crib?
A: You're right, of course, about the sweet baby boy — he is definitely my favorite part of the room, but I think I am most happy with the overall feeling we get when we are in the room. Everything came together and the little touches are what make the space special to us. I hope that it is a room our son can continue to grow into.
You can see more photos of Owen's nursery on Emily's blog.
Photo courtesy of the homeowner