A Garage Light For Any Season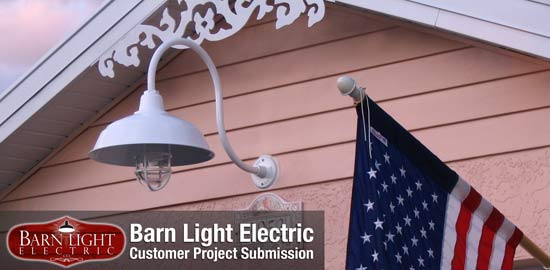 The leaves are changing and its getting dark earlier, but imagine finally having enough light in front of your garage or barn when you come home at night. The weather may be changing and winter looming, so why not update your inadequate flood lighting with one of our classic warehouse-style light fixtures. Not only do our warehouse shades offer a larger variety of enduring designs than our competitors; they also come with several choices in projection, due to the large selection of gooseneck arms . With over 50 finishes to choose from and so many custom options available, there is no wonder why so many people trust Barn Light Electric to light their homes, barns, restaurants.

These industry-leading features prompted the initial decision to go with Barn Light Electric for this latest customer project submission. Although Florida might not receive much of the harsh winter weather that other areas experience, the need for high quality distinctive lighting remains. This Old Dixie Gooseneck Light was the perfect addition to this traditional stucco home and features many classic styling characteristics that complimented our customer's central Florida residence. Featured with a cast guard and glass unit, the Old Dixie takes on a new personality that reflects a culmination of classic and modern styles resulting in the perfect multipurpose light. Standing out with a 17" warehouse shade on an HL-D Gooseneck , the Old Dixie provides an ample dispersion of light over this single car garage. Don't be left in the dark this winter by relying on other inferior lighting, choose one of our American made warehouse shades to light your latest project.