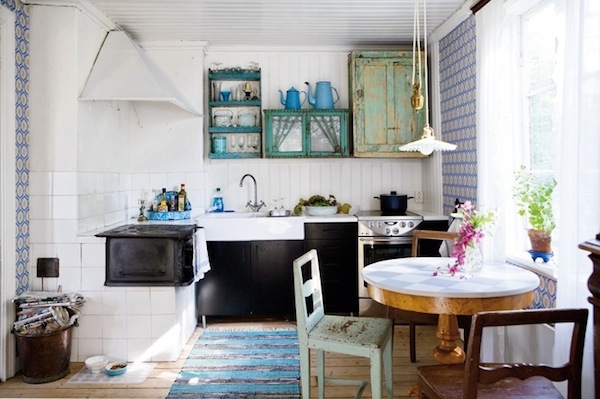 A Fluted Farmhouse Light for a Shabby Chic Kitchen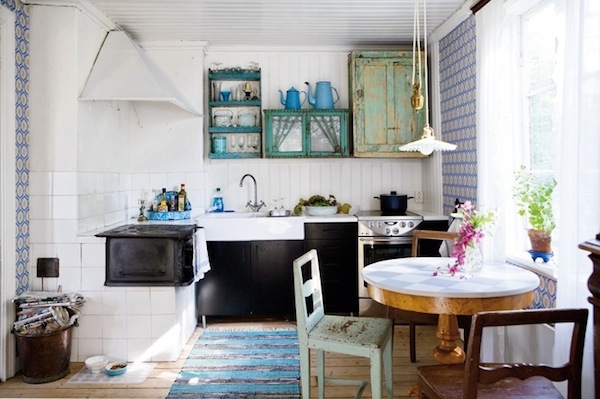 The most beautiful kitchens aren't always the largest or the most expensive. As each family has their own wants and needs for this area of the home, beauty is in fact within the eye of the beholder. The kitchen featured today may not be plausible for a family for five or more, but may be perfect for newlyweds or a single bachelorette.

Shabby chic character has grown in popularity all over the globe. With this new-old farmhouse concept comes the want for everything fun, vintage, and whimsical. Here you'll see mismatched chairs, patterns, and colors that flood the room with character. Aquamarine ceramics and dishes fill the cabinets while a similar striped rag rug covers their blonde wood flooring.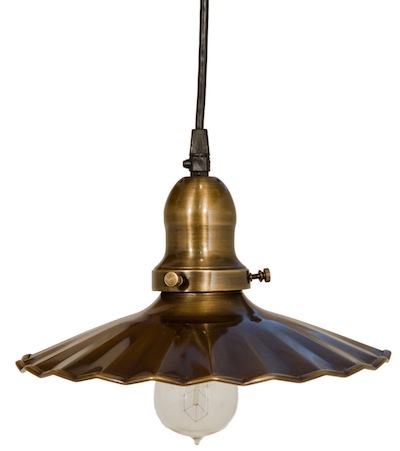 While the rustic charm is nearly perfect on its own, toss in a farmhouse light and you've got a kitchen worthy of a magazine feature. Over the petite round table is a ceiling light identical to the Radial Wave Flute Pendant. By incorporating a vintage style cap with a fun, fluted shade, this ceiling light contributes to the room's shabby chic nature. You can choose to hang a single light like the kitchen today, or pair them together above islands, within flower shops or scattered throughout industrial office spaces. With several shade sizes and over 40 finish options available for the cap and shade, the Radial Wave Flute Pendant is customizable beyond anyone's imagination. For a truly authentic look, it is also available with your choice of a vintage Nostalgic Edison Bulb. After all, the open design of the shade calls for a stylish light bulb too, not just your ordinary standard incandescent. Shown above in our antiquated Aged Brass finish, the Radial Wave Flute can be as retro and bright or understated as you please.
Top Photo Courtesy of Miss-Design