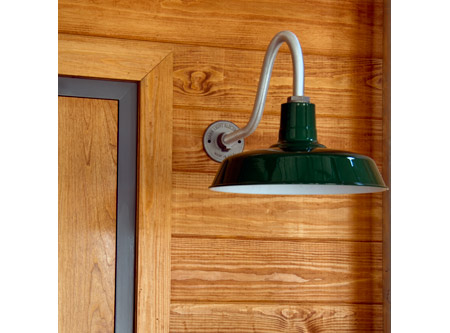 A Closer Look: Goodrich® Sky Chief Porcelain Gooseneck Light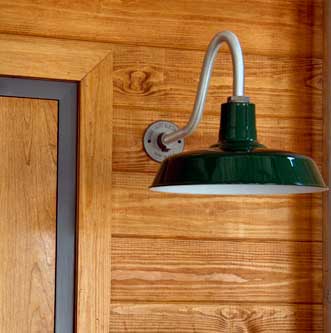 Porcelain Gooseneck Lights, like the Goodrich® Sky Chief, prove that today it is still possible to find affordable, hand crafted American made products. Reliable and durable commodities are never overrated, which is why our customers love the high quality components used on our porcelain enamel barn lights! Investing in a porcelain enamel barn light will not only provide years of interior or exterior use, but will also bring a bit of iconic American history into any space.

The Goodrich® Sky Chief touts its own unique features, but its shade is based on the original porcelain enamel warehouse designs from the 1920's and 1930's. While gooseneck barn lights were originally used within agricultural environments, they also share traits of the farmers who used them – they're simple, iconic, and they both clean up nicely with a mild soap and water! Finishes are available in: Green, Black, White, Bronze, Jadite and Cobalt Blue.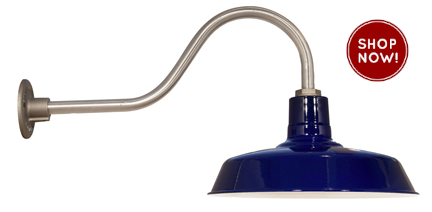 For increased durability, the light's inner steel shade construction was protected with an exterior glass coating. Multiple gooseneck arms and finishes are available with each vintage inspired light. Unlike your old bell bottom jeans or parachute pants, these lighting products will not go out of style! Resembling The Original™ barn light, its tall neck fans out into a thin sleek shade. The shiny porcelain enamel glass exterior qualifies the Sky Chief as an ultra modern lighting addition to a urban loft or cutting edge home, yet its traditional styles make it an ideal lighting addition to a farm house or commercial setting.
Think outside the box – the Goodrich® Sky Chief isn't solely confined to outdoor use. Today's versions are commonly found in homes and stores across the country. Homeowners and business owners alike appreciate the nostalgic porcelain look the Goodrich® Sky Chief's unique shade adds to its surroundings. They have incorporated porcelain barn lights into their kitchens, dining rooms, front porches, and garages. Plus, if you are a business or store owner, barn lights need to be considered for attractive exterior or display lighting. An Ivanhoe® Pendant or Benjamin® Stem Mount version is also available for overhead ceiling lighting options.
A perfect business example is found at the Levis' Tailor Shop in San Francisco, where several Ivanhoe® Sky Chief pendants hang above the tables in the center of the shop. Their vintage design and cobalt blue tone matches perfectly with the American themed floor treatment, and of course, endless amounts of blue denim.