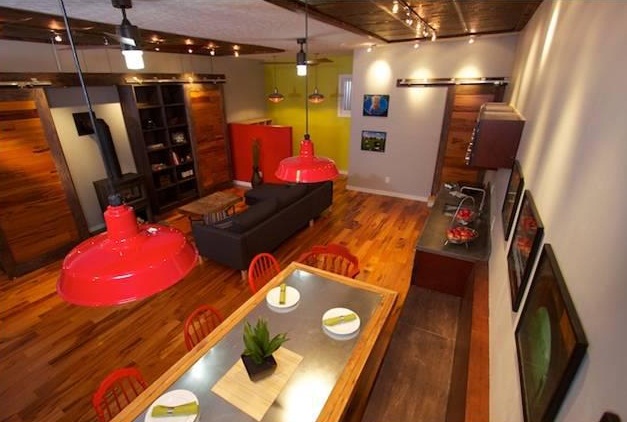 Warehouse Shades, Sconces, & Fans Complete Reality Remodel
In yesterday's blog, we took you to the set of DIY's reality show House Crashers where Barn Light Electric gooseneck warehouse shades took center stage on the exterior of this dramatic remodel. Today we venture inside where modern ceiling fans, rustic sconces, and more warehouse shades play starring roles. Homeowners Rachel Dissell and husband Tim Harrison live in the historic Tremont neighborhood in Cleveland, Ohio, and wanted to turn the old butcher shop that fronts their 100-year-old home into a family room. House Crashers Host Josh Temple jumped on the opportunity to bring in his crew to make their dreams come true.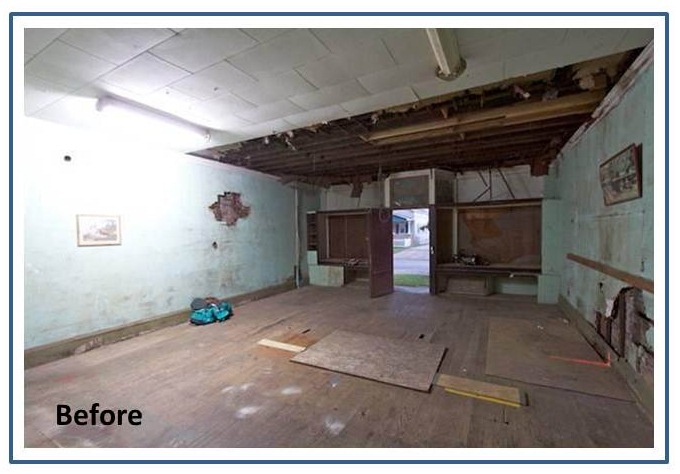 Once the homeowners cleared out "about five years' worth of stuff" from the space, the DIY team came in with a design plan and the necessary labor while Rachel and Tim called in about a dozen friends to help. Three days later when the dust settled, they had a new glass exterior that preserved the old storefront charm, hardwood floors, a sliding media wall, a custom window seat, a reclaimed dining room table, and a modern wood-burning stove.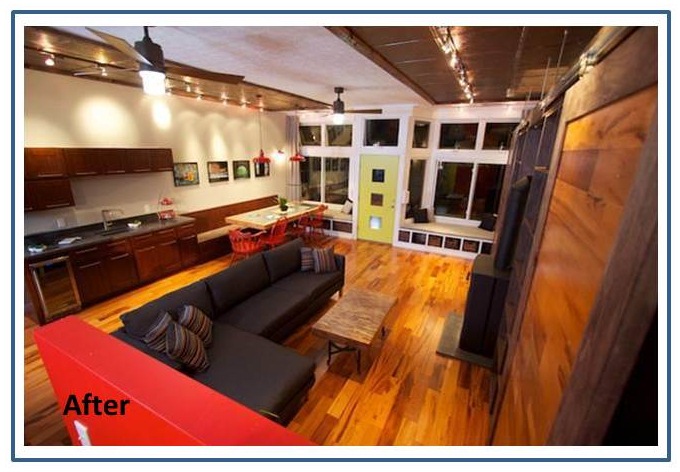 Highlighting the dining room are two Barn Light Warehouse Pendants in red and at the other end of the room, two more Warehouse Pendants in a galvanized finish with a red wire cage that complements the dining table lights. Near the front entrance are two Barn Light Industrial Static Topless Sconces also in a red finish to complete the look.
"We love the lighting style," Rachel says. "It has a throwback look while being completely efficient and sharp. It is acutally one of our favorite things about the room." She adds that trips to the lighting store didn't turn up anything as cool.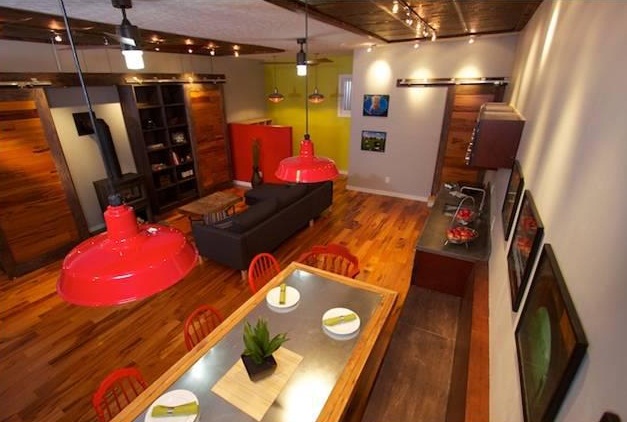 "We especially like that it is a mix of a more contemporary look with the fans and more old fashioned with the red fixtures," she says. The designer chose two Zonix Ceiling Fans from the Barn Light collection of Modern Ceiling Fans.
When the project began, it was hard to imagine the transformation that would take place in just three days, but as always, the DIY crew made it happen.
"There were alot of people working on all of the tasks," Rachel explains. "On Day Two, we never thought it would happen, but it did. We actually finished in just short of three days."
Photos courtesy House Crashers and the DIY Network