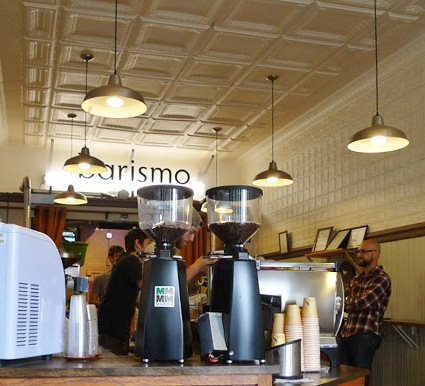 Warehouse Shades Lend Strong 1930s Taste to Coffee Shop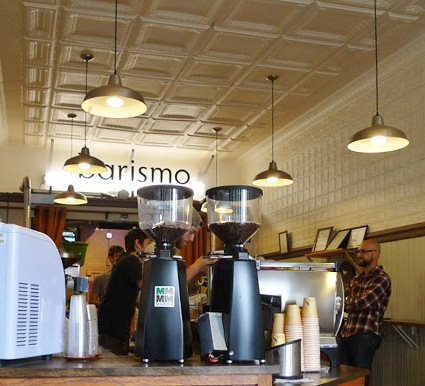 With coffee shops, it's all about the atmosphere. Because, quite frankly, lots of operations out there can roast and make a good cup of coffee, so like other businesses, a coffee shop needs something to set it apart from the competition. Comfortable seating, free wifi, and an interesting selection of coffee blends and food, can all lure customers through the door and, more importantly, make them want to come back again and again.

Barismo is an Arlington, Massachusetts-based roastery that offers full coffee service alongside the wholesale roastery operation. Set up as a walk-in bar, this coffee shop may not have big comfy chairs but it does offer tantalizing decor to bring in customers. The richly patterned ceiling harkens back to an earlier time, as do the textured walls featuring both tile and wainscoting. And of course we couldn't help but notice the beautiful barn pendants that come straight from 1930s designs!
These cord-hung pendants are very similar to our Original Warehouse Pendant, one of our most popular fixtures thanks to its design and versatility. This American made pendant comes in five shade sizes ranging from a mid-sized 12″ to a hefty 20″ wide version. Your customizing options start with a dozen finish colors that include Textured Black, Barn Red, Chocolate, and Industrial Grey. Each color has the ability to give this classic light a different look and feel. Choose a standard cord or try a colored cotton or cotton twist cord for even for pizzaz. If you want your lighting to have more of a vintage flavor, consider adding a wire cage to this light or a cast guard with either clear, frosted, or ribbed glass. Again, these customizing options add a boost of character that sets your lighting apart from the generic fixtures found in other stores.
And if you want to create a family of lights for your business, don't forget to check out the matching Original Wall Sconce and Original Warehouse Gooseneck Light!