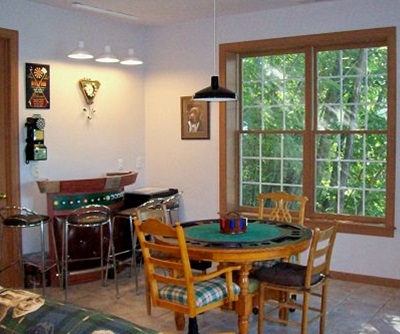 Warehouse Shades for a Vacation Home Game Room
Nestled in the midst of the Hickory Nut Gap Gorge in western North Carolina lies beautiful Lake Lure. The lake and tiny town of the same name had a burst of popularity shortly after the release in 1987 of "Dirty Dancing" starring Patrick Swayze and Jennifer Grey in a coming-of-age drama filmed on location in Lake Lure. Twenty-five years later, the movie is still celebrated here but more often than not, people come to Lake Lure simply to spend time in one of the dozens of vacation homes that dot the shoreline.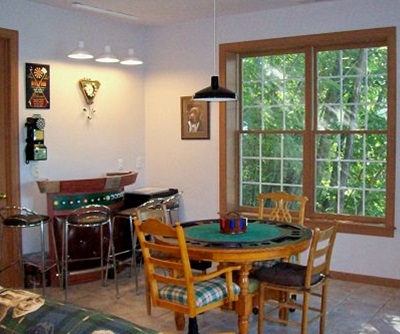 One such home, tucked into a quiet cove, offers a lovely place to spend a week fishing and swimming off the dock right out the back door or just enjoying the beauty of the surrounding mountains from the covered porches. While there is plenty to do outside, on a rainy day the downstairs game room becomes a popular spot with its black jack table, dart board, and a poker table with a removable top that reveals bumper pool. There's something for everyone! And you won't miss a single card or trick shot thanks to the classic barn lighting overhead.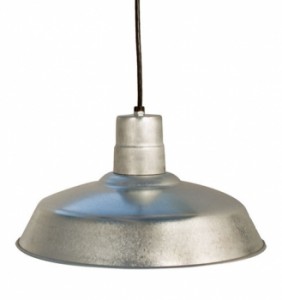 These fixtures are just like The Original Warehouse Pendant, one of the most popular lights we offer in our Barn Pendant Collection. This American-made fixture boasts a design that's almost 100 years old and is a classic light with timeless appeal. With five shade sizes to choose from and a variety of other customizing options, you can create a light that will fit into many different design schemes from industrial to vintage to traditional. Choose a standard black or white cord for damp locations or, for a punch of color, choose one of our colored cotton or cotton twist cords. A wire cage or cast guard and glass will give your new shade a vintage feel and protect your bulb from errant pool shots too!