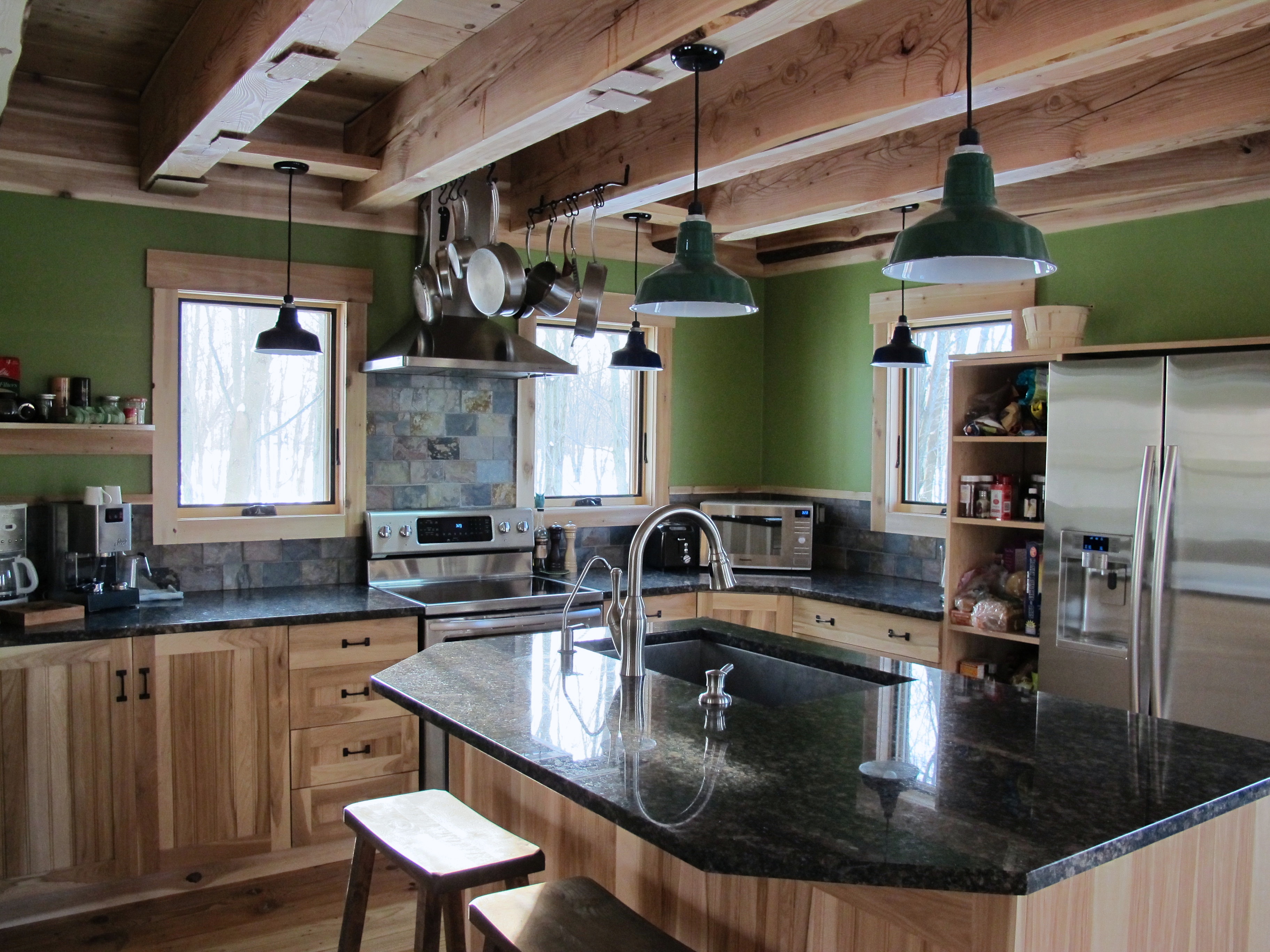 Professional's Corner | Green Builder Gets Rustic Look With Porcelain Enamel Lighting
Jeff and Kalie were tired of renting and wanted to live in a green home that was not only energy efficient but beautiful too and equipped with as many American made products they could find. With some savings in the bank and Jeff being a jack-of-all-trades, the couple started researching sustainable designs then jumped right in and built their own green home in northern New York.

"We wanted every inch of our home to be useful," Kalie says. "We finalized our plans last June and have worked 14 hours a day, 7 days a week since then." The results are stunning.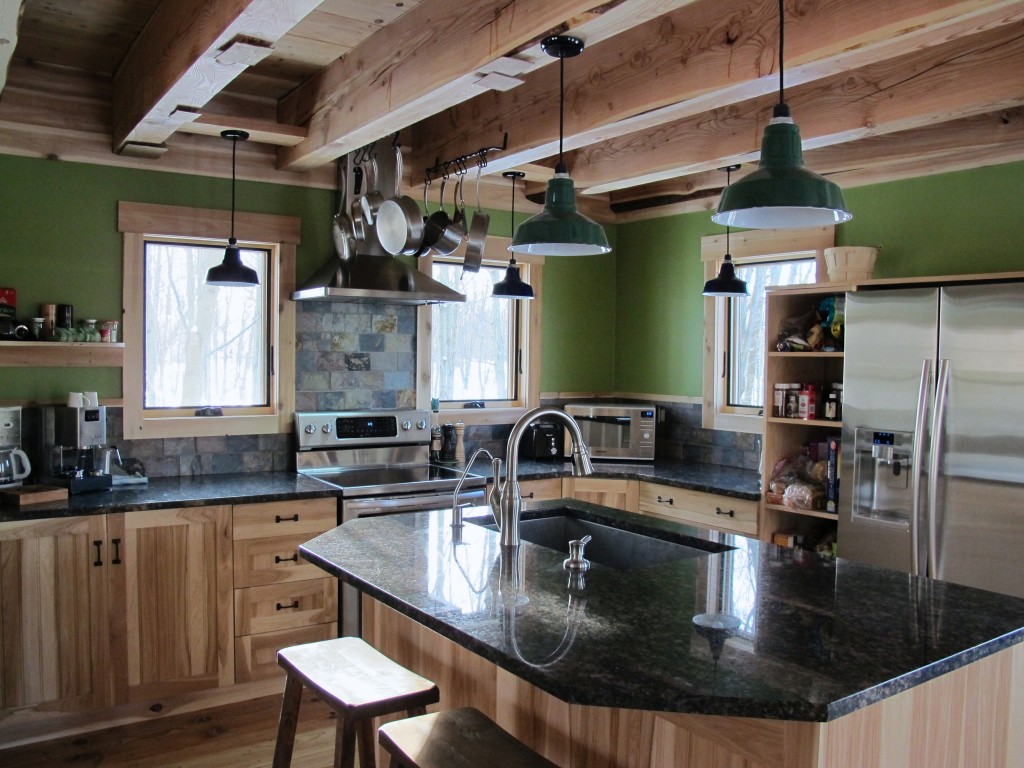 "Our house is rustic with modern and contemporary touches," Kalie explains. "Due to the lack of a traditional ceiling in the kitchen, we needed lights that would accentuate the beams while keeping a simple, clean look." While looking for USA-made fixtures online, Jeff remembered a porcelain barn light from the 1930s in his family's old camp on Lake Bonaparte. The couple was thrilled to find that Barn Light Electric had revived the process of porcelain enamel manufacturing with many styles and options available right here in America.
"With our kitchen barely framed, we bought 5 porcelain lights for our kitchen," Kalie says. "We fell in love with the rustic look immediately and felt they fit our design concept perfectly." The couple chose two 12″ Ivanhoe® Dino Porcelain Cord Pendant Lights in Green with a standard black cord for over the island and three 10″ Ivanhoe® Esso Warehouse Porcelain Pendants in Cobalt Blue with a standard black cord for over the sink and counters.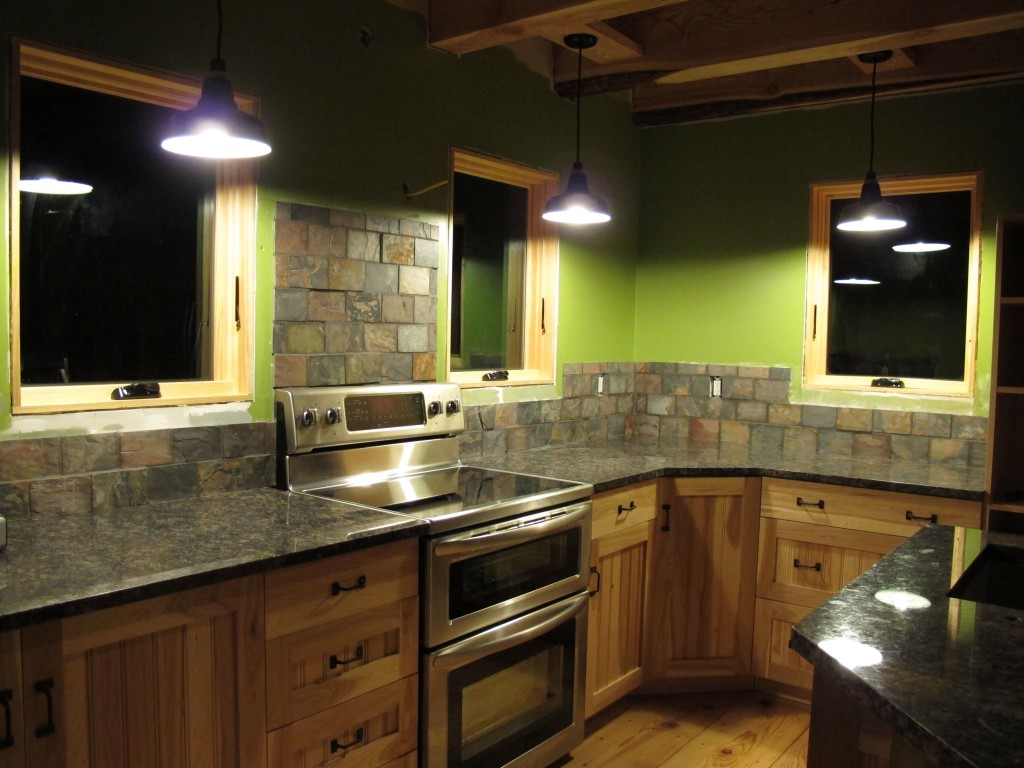 "It was tough to decide on a color but we are glad we got both the Cobalt Blue and the Green because the blue lights complement the slate backsplash and contrast the green walls whereas the green lights plainly remind my husband of his old camp," Kalie says.
While many people build a home and vow never to do it again, this couple had so much fun they started their own business — Bear Creek Builders — specializing in sustainable building of smaller homes. They already have potential customers calling to get on their schedule.
"It's nice to know we will always have a place to go for lighting that will catch the eye of a future buyer!" Kalie adds.
Photos courtesy of the homeowner
Granite countertops by Rocky Mountain Granite, Webster, NY
Custom hickory cabinets by Barker Cabinets of Oregon