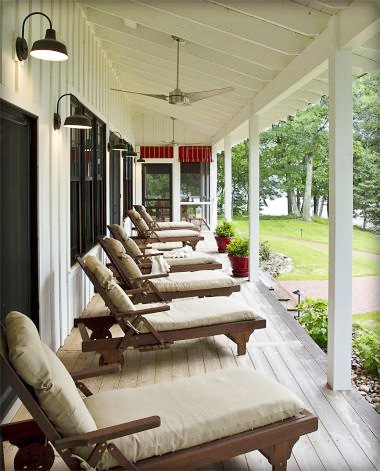 Wall Sconce, Modern Ceiling Fan Team Up in Outdoor Space
Long, narrow spaces can be tricky when it comes to lighting yet we found a beautiful example of an outdoor living space that relies on space-saving barn wall sconces to provide gentle, ambient lighting. Instead of adding light fixtures to the ceiling fans which would overpower this restful space, the designer opted for these sconces that hug the walls and provide soft, unobtrusive lighting. These sconces are very similar to our Barn Light Arlington Sconce, a low-profile fixture characterized by a decorative wall plate along with a slender gooseneck arm. Offered in 8″ or 10″ shade sizes, the Arlington would make the perfect addition to porches such as this, garages, workshops, or even indoors in bathrooms or hallways. Available in authentic powder coat finish colors ranging from Textured Black to Barn Red and Industrial Grey, this American-made light adds a hint of nostalgia to even the most modern spaces!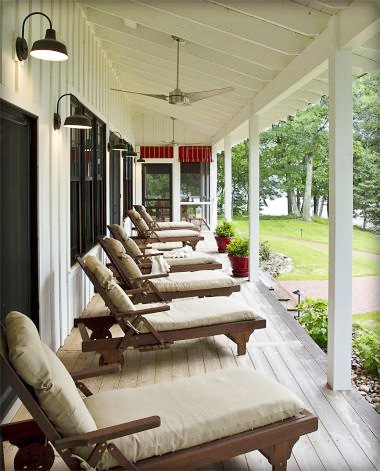 If you prefer the toughness of porcelain enamel, consider the Wheeler™ Esso Wall Sconce, which packs a lot of punch into a small size just like the Arlington. Also available in 8″ and 10″ shade sizes, the Wheeler™ Esso is hand spun from commercial grade steel then finished with a durable and long-lasting porcelain enamel finish. This finish is popular, especially with commercial businesses, because it lasts for years with no fading or corroding and requires virtually no maintenance. Its bright and shiny finish color will look the same in 30 years as it does when you pull it from the box!
We also love the juxtaposition of the modern ceiling fans with these barn sconces. These fans resemble our Altus Ceiling Fan which features a compact, organic shape. Finished in brushed aluminum or white, this fan can be customized with or without a light kit. Don't forget to check out the variety of control options including a hand-held remote!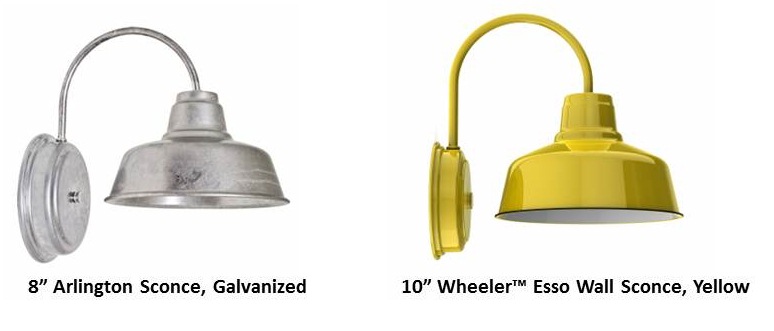 Top photo courtesy Lands End Development and BeDe Design