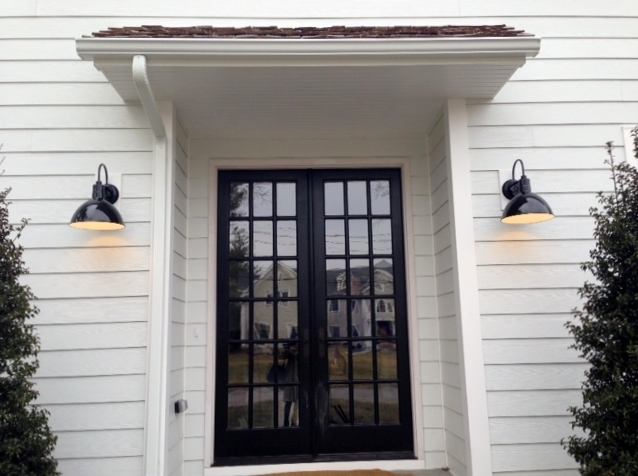 Deep Bowl Wall Sconce Lighting Bridges Traditional, Modern Look
When you've been in the interior design business for almost 20 years, you've seen just about everything. For Kristina Rinaldi, of Rinaldi Interior Design in New York, the demand from a contractor to come up with seven wall sconces in a day was not exactly unusual.
"Things were kind of sprung on me during this project," Kristina says, "but fortunately my brain is conditioned and full of so many resources because it does happen often." For this "I need it yesterday" situation, Kristina turned to Barn Light Electric for a fast delivery of seven Wilcox Wall Sconces. The project was a complete rebuild of a home in Chatham, New Jersey, and Kristina was called in to handle furnishings, lighting, wallpaper, and paint.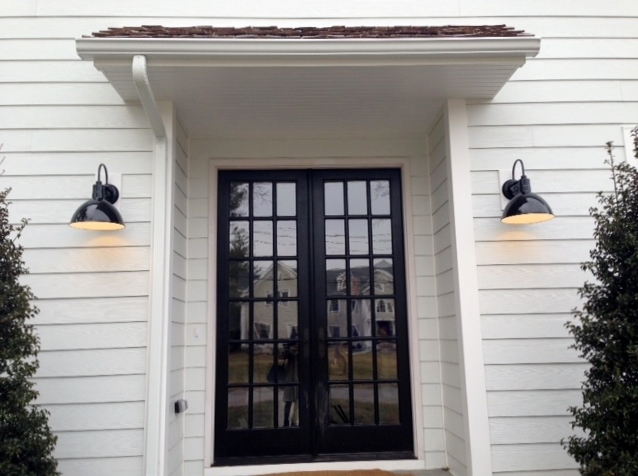 "Traditional architectural details were already in place when I came on board, but my client wanted to add more modern pieces in some areas," Kristina explains. "I had to finesse the modern with the more traditional details, but I am modern overall so we did find a nice balance." For the exterior lighting, the client wanted a simple white house with black finishes. Kristina chose both 12″ and 14″ shades for the new porcelain enamel wall lights and finished them all in our high-gloss Black porcelain enamel finish.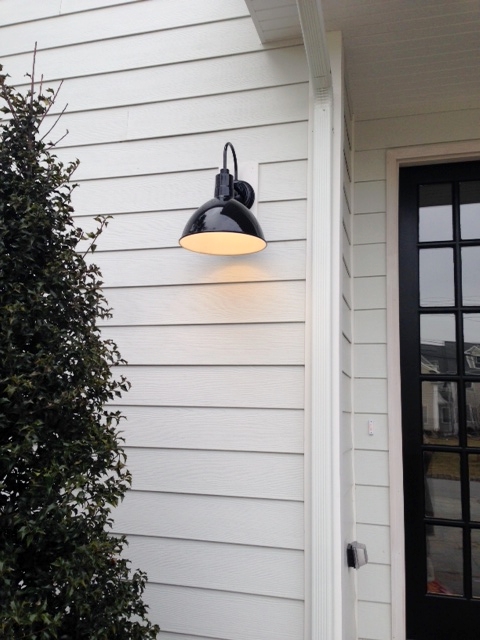 "I love introducing more whimsy to my clients who are used to traditional design," Kristina says. "I push them to get things they would have never imagined." The deep bowl shade of the Wilcox Wall Sconces are a modern take on the traditional warehouse shade. These American-made shades are hand spun from commercial grade steel then coated with three layers of porcelain enamel glass which is baked on to a rugged finish. The high-gloss shine of porcelain enamel will never fade and will last for years.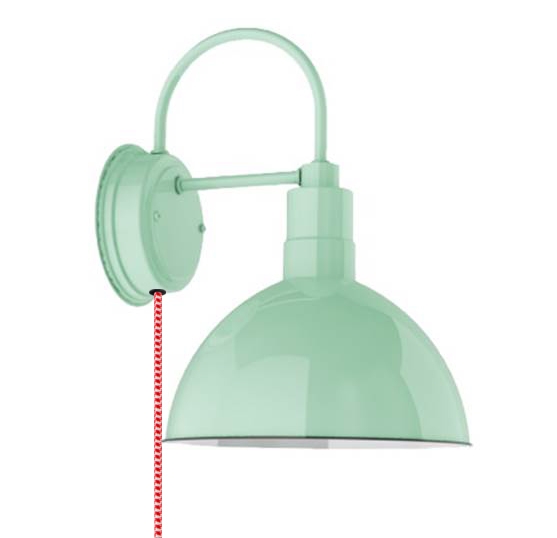 Porcelain enamel lighting is easy to customize with a rainbow of brilliant finish colors to choose from including the creamy Jadite shown above. The Wheeler™ Wall Sconce line includes options such as cast guard and glass or a wire cage and even a plug-in option if you want to have the mobility of a plug-in fixture.
"I love all the colors that are available," Kristina says. "My client loves them because no one else on her street has anything like them."
Photos courtesy of Rinaldi Interior Design