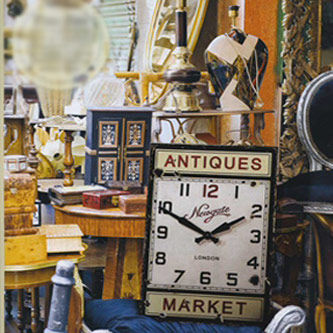 Vintage, Retro Clocks Add Style to Daily Task of Timekeeping
Although we have about three weeks left of Daylight Savings Time, the cooler weather and shorter days are definite harbingers of the season to come. And though we moaned about losing an hour of sleep last March, we get that precious hour back on November 2nd.
While many people have given up wearing a watch in favor of a phone strapped to their side, having clocks on display in the home is a great way to have functional artwork in your space. Our Vintage Timekeeping Collection offers something a little more stylish than a tablet to keep track of time at home or in the office.
The Metro Clock, shown here in the kitchen, has an easy-to-read dial with a slightly aged appearance. The acrylic case comes in either Gloss Red or Gloss Black giving this vintage clock a touch of modern style. Perfect for keeping track of the muffins in the oven.
It's easy to dawdle in the bathroom in the mornings but the Bubble Alarm Clock will keep you right on time with its quirky design and bold Arabic numerals. Designed in Great Britain by Newgate Clocks, this classic retro clock comes in glossy colors of Black, Red, or Cream.
For something with a bit of history for your family room, the Antiques Market Wood Wall Clock is inspired by vintage advertising clocks found at the Portabello Road Market in London. At 24″ tall and accented with antique cream and black tones, this lovely clock features large metal hands on a composite wooden back.
If you have kids or just want to add a touch of whimsy, you can't go wrong with this rustic trio of Vintage Clocks. These wooden clocks bring the charm and nostalgia of vintage signs to your kitchen or cafè. The Ice Lolly and Ice Cream Cone both measure almost two feet high so they make wonderful wall art for commercial venues. Watching time go by has never been more fun!