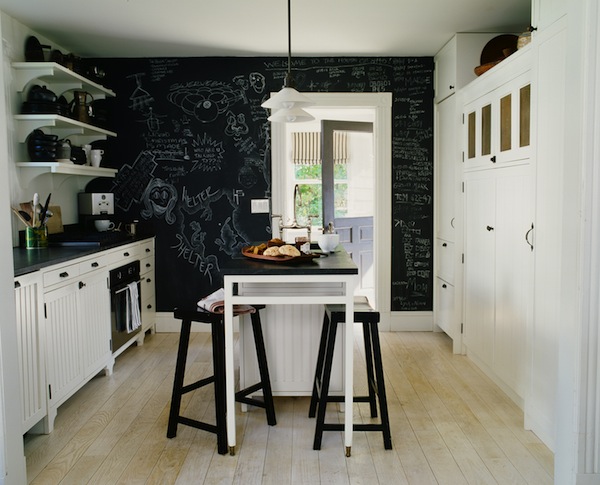 Vintage Pendant Lighting in Industrial Farmhouse Kitchen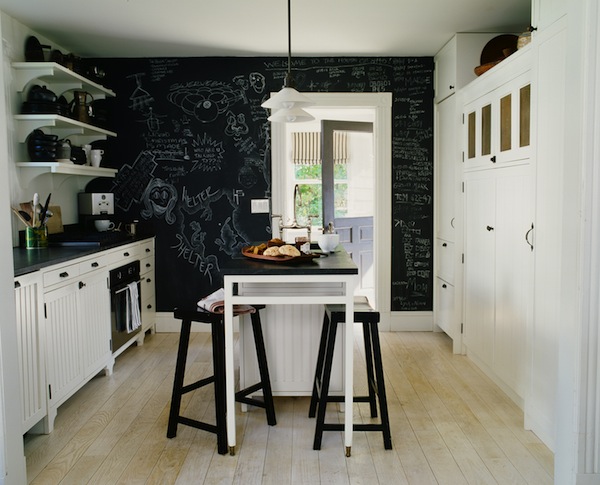 We're seeing an increase in the popularity of industrial farmhouse styles throughout the design world. Oftentimes, this style is seen frequently in kitchens and powder rooms, but also looks great in bedrooms and dining rooms. With the rise of the rustic kitchen comes a new outlook on elegance by incorporating a few necessary elements. These farmhouse kitchens must have the following:

Stylish worn wood floors
Rustic cabinet hardware
Vintage pendant lighting
The kitchen featured today brings all of those elements together, while integrating additional aspects. The chalkboard wall is perhaps the most noticeable of these components, and is the perfect backdrop for the frosted glass pendant lights lingering above the island area. Yet another great piece is the exposed shelving on the left side of the room. This is great should you have fabulous porcelain, glass, or copper cookware to show off!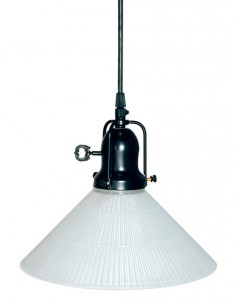 Pendant lighting similar to the two shown here are ideal in an industrial farmhouse kitchen for a number of reasons. The frosted glass shades give off a soft glow to the room, while providing adequate lighting for the workspace below. These pendant lights also emanate a vintage style that you would think could only be found in the days of old.
Well, toss that thought out the window, as we bring to you the Barn Light Homestead Pendant! This American made pendant light has so many options for customization, making it perfect as stylish kitchen lighting. Choose the Frosted Ribbed Glass (shown on the left) or our Opal Glass for a look to match today's photo. If you're searching for a touch of color, choose a Green or Amber Glass for a unique lighting alternative. Be sure to add an Edison Light Bulb, and your look is complete! These Edison Light Bulbs are authentic replicas of the original squirrel cage bulbs, and are the perfect finishing touch for any of our vintage pendant lights.
Top Photo Courtesy of Schappacher White LTD and Laura Moss Photography