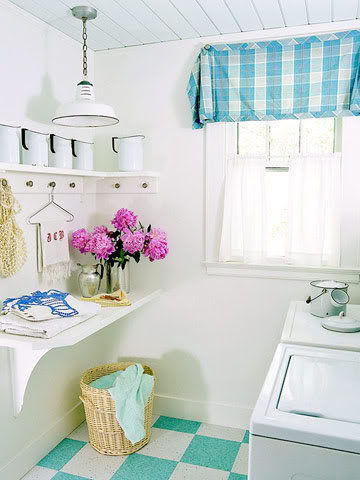 Vintage Industrial Lights Bring Style to Laundry Rooms
Your laundry room: it's probably the most dreaded area in the home. For some reason, this simple task is an awful chore for many – especially if you have a large family to keep clothed. Since quite a bit of your time is spent washing clothes (the average American mother spends up to five months of her life doing laundry), why not make it into a fun space that you don't mind being in?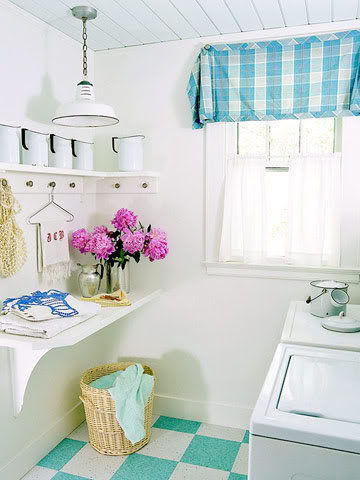 A favorite of ours is from the Southern Living Idea House – with the laundry room doubling as a flower room to care for the many floral arrangements and gardens found around the home. Maybe we're biased because of the industrial light fixtures, but who's to say? You can easily turn your own room into a space to accomplish that not-so-fun weekly task, whether it's a laundry room, or used for gardening or painting. Add an inexpensive and brightly colored linoleum floor for color and easy cleanup, and utilize creative storage solutions for detergents and soaps – they're far more stylish than those ugly plastic bottles.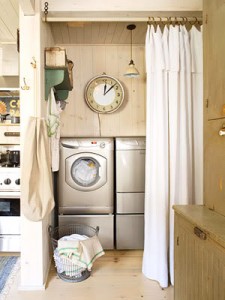 Of course, you couldn't expect to effectively wash clothes without proper lighting, right? Rustic pendant lighting in your mudroom will work as a functional decoration for years to come. Industrial lights, like the white Ivanhoe® Vintage Shallow Bowl Pendant, have that stylish, worn appearance – just like your favorite pair of jeans. If your laundry room is just a small nook in your home, consider a smaller barn lamp that won't take up much room. Our Fargo Pendant has the same vintage styling as the photo on the left, and is available in over 40 finishes to match any design – from industrial to retro. Select a white finish with a cute black cup to match that in the photo.
Photos Courtesy of This Girl's Life