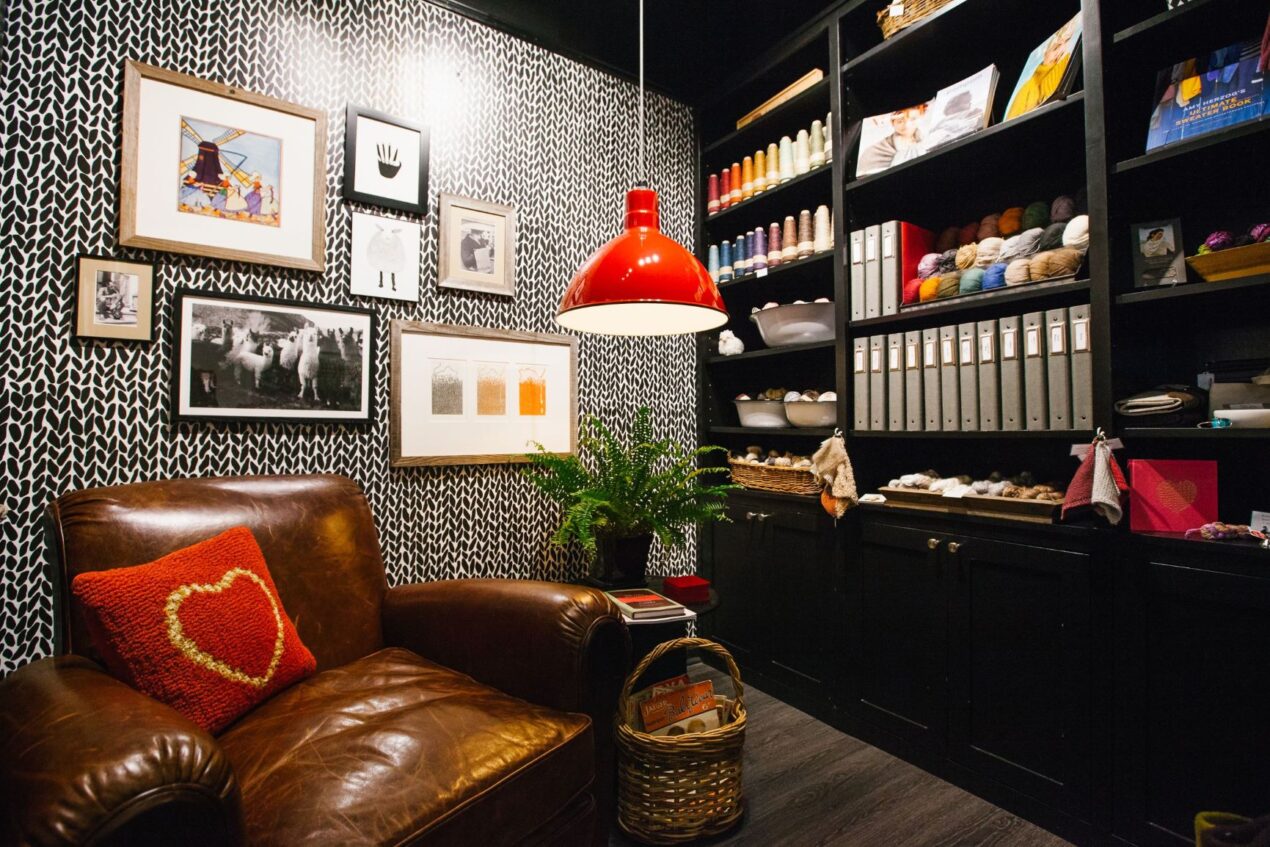 Wallpaper Wednesday Brings Bold Patterns & Classic Lighting Together
Wallpaper continues to be one of the biggest design trends of 2022, and consumers show no signs of abandoning the countless options now available. Wallpaper can transform a room by adding color, depth, and visual interest while creating an instant focal point in a space.
Today we're sharing some of our favorite spaces that not only feature creative wallpaper but perfectly placed, handcrafted lighting too!
This photo on Instagram leapt off the screen when we scrolled by! Jodi Warren Designs created this beautiful spot in a bathroom recently which paired festive pink wallpaper with our Streamline Industrial Guard Sconce in a crisp, white powder coat finish.
Another pretty bathroom with eye-catching wallpaper comes from our friend Ashley at The Maine Spruce House. The bold wall is accented by a Seaside Gooseneck Light customized with a 16″ shade finished in Emerald Green. The wavy shade plays well with the subtle movement in the wallpaper design!
Floral patterns are always popular, and this bedroom, created by Avery Auger of Creede America, shows that even monocolor patterns can be beautiful. The two Primary Schoolhouse Pendant Lights provide light to the space, and the clear globes allow the wallpaper to take center stage.
When Leslie transitioned a nursery into a bedroom for her two growing boys, she incorporated their favorite ski resort right onto the wall. The detailed map makes the room feel bigger and creates a place where the boys can dream about their next adventure. Nighttime reading is aided by The Original™ Retro Desk Lamp customized with a 12″ handspun shade, Navy finish, and 12″ stem.
A laundry room might not seem like a place to have fun, but Melissa chose a playful wallpaper filled with puffer fish to bring some joy to her laundry tasks. The space is highlighted by a 16″ Loma Pendant Light finished with a White exterior and a Painted Aged Brass interior.
Commercial settings are another great place to find interesting wallpapers. We fell in love with the Knit House on Main when we featured designer Joan Korngut on the Barn Light blog. Joan spearheaded the remodel of the knitting shop located in the tiny town of Tiburon, California. Staring with a repetitive, black-and-white wallpaper, she then added artwork and a bold Wilcox Deep Bowl Pendant Light in Cherry Red to bring light to the nook.
Feeling inspired and adventurous? Be sure to check out our blog and Instagram feed for more beautiful photos. No matter what pattern you choose for your walls, you can customize our handcrafted, American-made lighting to be the perfect complement!