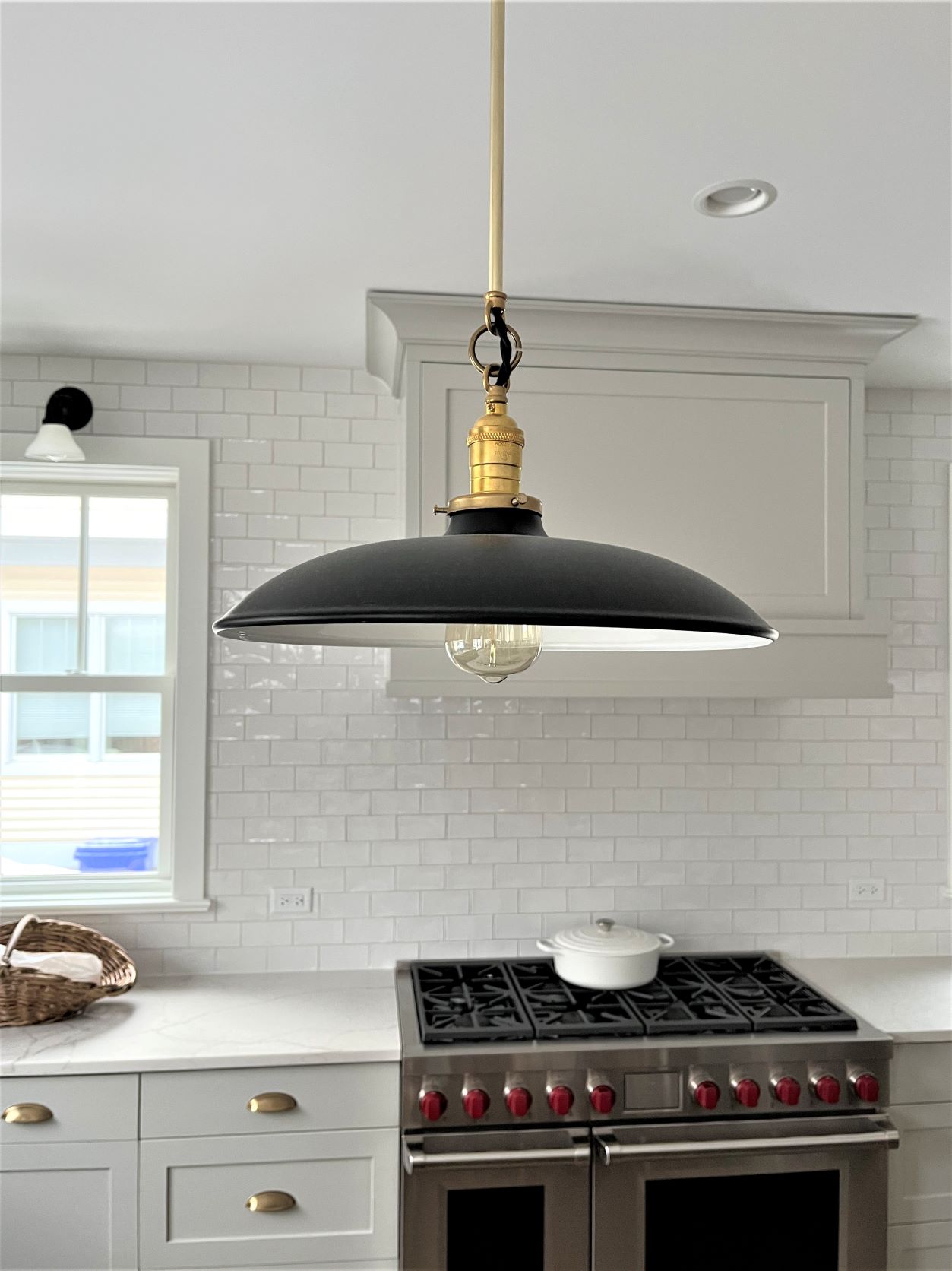 Stem & Loop Pendants Create Vintage Vibe in New Kitchen
Early 20th century lighting was typically little more than a bare bulb hanging from a cord. To help reduce glare and increase worker safety in factories, lighting manufacturers created shallow-domed shades to cover the bulbs and create more focused task lighting. Those early RLM-style shades have come a long way, but the vintage look is still in high demand.
When Jan built her new farmhouse in Glen Ellyn, Illinois, she opted for many rustic features to give her home a classic vibe. When searching for lighting for her kitchen which features a center island, glossy-white subway tile, and a farmhouse sink, she hoped to find fixtures with an authentic feel. She struck pay dirt when she came across Barn Light Electric during her online search.
After browsing the pendant collections, Jan chose the Sinclair Stem & Loop Pendant Light to accent her kitchen island and serve as a focal point in the space.
"Finding a light with a vintage feel was important," Jan says. "I was attracted to the Sinclair's loop and exposed cords on these fixtures." Jan customized her new handcrafted lights with 14″ shades, a Matte Black finish, and black cotton twist cord. She also chose a 24″ stem to bring the lights to the perfect height above the workspace. The socket is brass with a black paddle switch for a true vintage touch.
"I chose the black finish on the shades and the black cotton cords as these match my kitchen finishes," she notes. Jan's fixtures are handspun from commercial-grade aluminum. At every step in the process, many hands craft and complete the finishing and assembly processes taking great care that each fixture is built according to the customer's specifications.
The Sinclair can also be crafted from copper, brass, or steel. Steel shades are finished in porcelain enamel which results in a high-gloss finish that will never fade. A variety of cords, plus stem and canopy options mean that customers can create the perfect fixture for every space. To see every available mounting for this popular shade, visit our Shop by Shade page for the Sinclair!
Photos courtesy of the homeowner