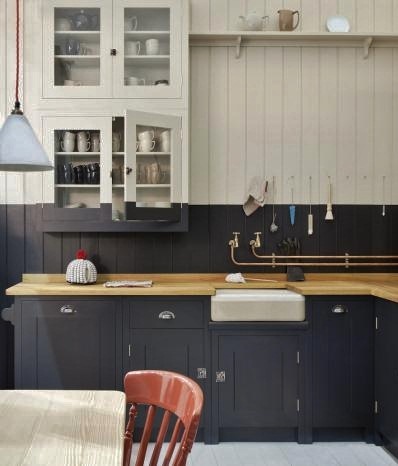 Vintage Cone Shaped Pendant Adds Flair to British Kitchen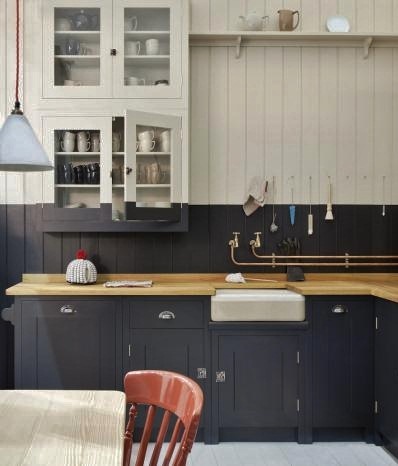 If you were browsing the Porcelain Blog last week, you might recognize the unusual paint scheme in this kitchen. The color of the lower cabinetry continues above the oak countertops lending an unusual visual treat. We featured a shot of a deep bowl porcelain pendant in that particular blog, but today we're focusing on the vintage pendant overhanging the kitchen table. This space was created with a royal's touch as none other than Prince Charles himself collaborated with the company Plain English to design this model home for last year's Ideal Home Show in London. The Prince apparently is an avid supporter of sustainable living, and he worked with Plain English to create a lower cost version of this line of finely crafted, glazed wall cabinetry.
Vintage touches abound in this kitchen with the beadboard walls, exposed piping, and antique kitchen tools hanging over the sink. A vintage glass shade pendant is a perfect choice to complement this space. This pendant is much like our 10″ Cased Cone Shade Pendant which is part of the collection of Cased Glass Shade Pendants offered on our Vintage Barn Lighting website. This pendant comes with either an unfinished brass socket with a turn key or in polished nickel with a knob. A colored cotton twist cord adds a nice touch to this fixture and you can choose from red, black, brown, or putty in a variety of lengths to suit your space. To complete the vintage look, be sure to add a nostalgic Edison style light bulb to your order!
If you want something a little frillier and feminine, check out the 11″ Vintage Green Wavy Cased Glass Pendant. This shade also has the unfinished brass or polished nickel socket with your choice of colored cotton twist cord. Hung in pairs, this pendant would be a fine addition to your kitchen island!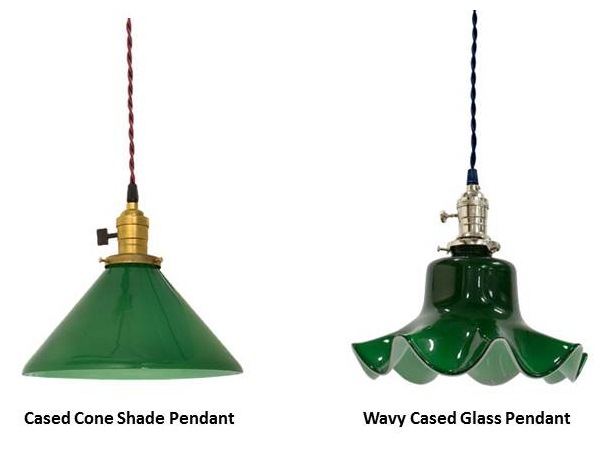 Top photo courtesy Remodelista