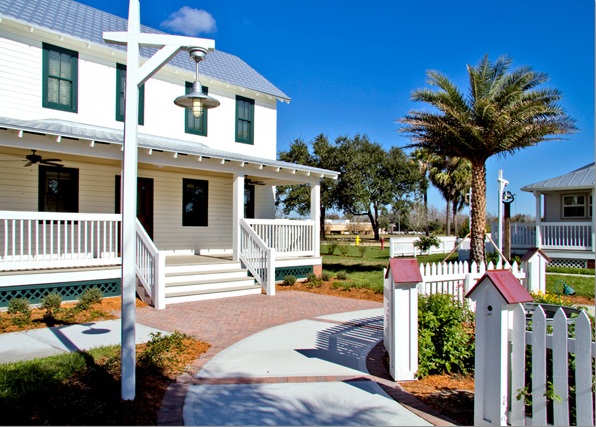 Vintage Barn Lighting Completes Look of Historic Health Facility
The term "health care facility" conjures up all sorts of sterile images of white tile flooring, stainless steel fixtures, and fluorescent lights. The newly opened Parrish Health Village West, located in our hometown of Titusville, Florida, smashes that image completely. The new campus, designed in a 19th century architectural style, offers health care programs for seniors such as disease prevention, health education, senior wellness, and lifestyle education. Three of our community's most notable historic houses were renovated as part of the campus, and Barn Light Electric was proud to supply some classic vintage lighting and other fixtures to complete the historic look.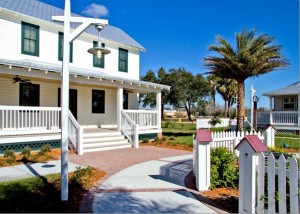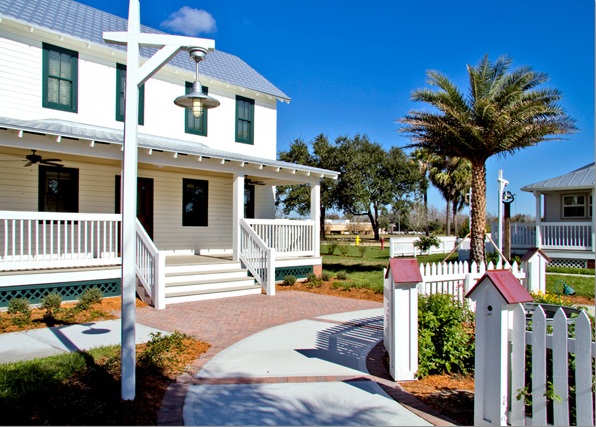 The Philanthropy House is a 102-year-old home that now houses the Jess Parrish Medical Foundation. Welcoming visitors down the front walk is a Barn Light Shallow Bowl Pendant in a galvanized finish complete with cast guard and frosted glass for a vintage look. The galvanized finish on these lights will withstand our Florida sunshine and afternoon rains for years to come! In addition to the administrative offices, this house includes an historical parlor to showcase the history of the hospital and the North Brevard community.
Nearby, the 64-year-old Nobles House has been renamed Heritage Hall and serves as a gathering place for community meetings, retreats, events, and visiting lectures to the medical center campus. On the left below, Garden City Wall Sconces dress up the doorway to a meeting room providing a soft spot of light on the wall. On the right, more Shallow Bowl Warehouse Shades mounted on sturdy white posts line the meandering walkways.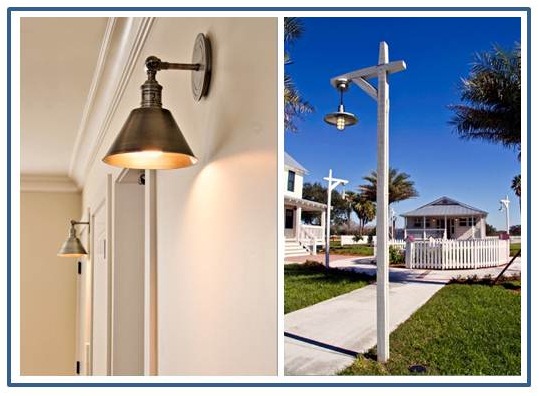 For those with loved ones in the hospital, Carey's Guest House provides a convenient place to stay with three private suites available for lodging. The facility offers all of the comforts of home including a relaxed front porch setting with one of our white Edgewood Wet Location Ceiling Fans to beat the Florida heat. Inside the rooms, a gentle breeze is stirred up with the Edgewood Deluxe Ceiling Fan in a tortoise shell finish.