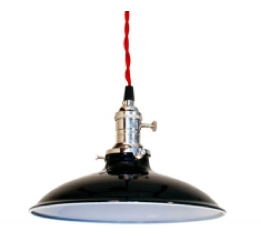 Three Unique Rooms to Consider a Porcelain Barn Light
Throughout our blog, we've shown multiple eye-catching examples of porcelain barn lights in living rooms, bedrooms, bathrooms and kitchens; these are just a few of the places where these quality lights will make an instant impression! When you devote even a small amount of time and energy into improving frequently used rooms, the payoff will be huge. If you're ready to tackle your next project area, consider revamping the lighting in your craft room, hobby stations or showcased display areas.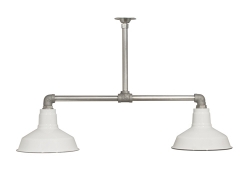 Game Rooms: Whether you prefer a night of ping pong, poker or billiards, a stem mounted light like the Benjamin® Bomber Porcelain Stem Mount Light will add a nostalgic look your guests are sure to notice. The Bomber's 17″ shade will spread light across the entire table. You can choose to hang the light low above a poker table or higher up to avoid getting in the way of ping pong. These start at $239 each and come in a variety of finishes to complement your sports themed room. Another stem mount light to consider is the Benjamin® Polly 2-Light Porcelain Stem Mount Pendant. These are a double stem mounted light that are the perfect choice to hang above pool tables! The stem mount assures the light won't move if it gets bumped by a pool stick, while the dual shade makes sure every inch of the table is well lit!
Work Stations: A hobby table or work bench is only as good as the lighting surrounding it. Whether you're cutting wood or painting like Picasso, porcelain pendant lightwill assist your eyes with a steady and focused angle of light that's needed to perform your task. Barn Light Electric's most popular porcelain pendant light, the Ivanhoe® Sinclair Industrial Porcelain Pendant, starts at $159 and comes with a vintage socket and an authentic on/off knob. An adjustable cloth cord also makes it easy to increase or decrease the span and intensity of the light!
Trophy & Memorabilia Rooms: Treasured moments from the past and collectible items are often displayed in their own separate room. Whether your collection includes family heirlooms, sports cards or antiques, a light like the Goodrich® Esso Porcelain Gooseneck Light is the ideal fixture to install over your display. With a wide variety of gooseneck arms to choose from, you can extend the reach of a light to curve over a display case.