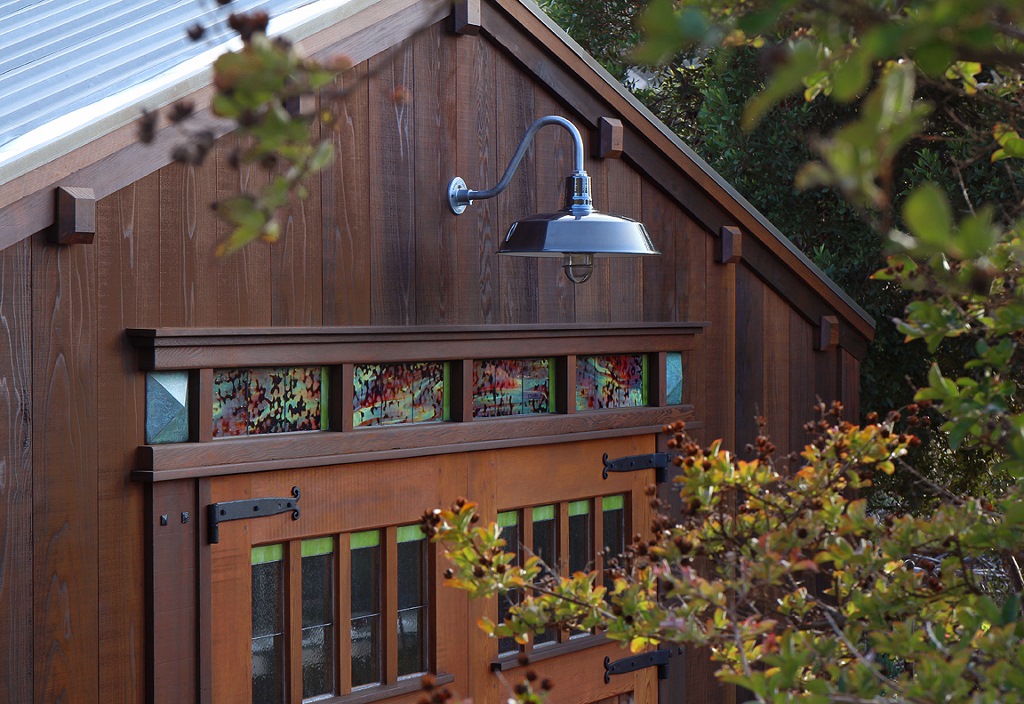 Porcelain Enamel Barn Light Adds Period-Correct Style to Studio
For followers of our Facebook page, we teased you a bit yesterday with a gorgeous photo dubbed "eye candy for architects" by a fan. Today, we chat with Larry Evans, a creative director in California who recently remodeled his studio space and shared his stunning photos with us.
Q: Where is your studio located?
A: We live on a seven-acre ranch-like setting near the top of a mountain and the design studio is located on the same property near our house. It's nestled amongst the trees we planted many years ago on this old avocado farm here in Escondido. The barn-like building is mostly steel and luckily withstood an intense wildfire that voraciously burned through our property destroying most of our landscaping, a redwood hot tub, and deck.
Q: Why did you decide to remodel?
A: The building was built about 40 years ago as a simple metal frame-and-panel tool shed that was used for farm implements and a retreat for feral cats. After 25 years of neglect and some scorching by the blaze, it became apparent that some TLC and character upgrades were in order. Unable to find any quality craftsmen near our ranch, I decided to undertake the remodel myself. I designed every inch and constructed the two 9-foot cedar doors by hand that grace the face of the building. The art glass window box and door jambs were made entirely from the reclaimed lumber we rescued from our redwood deck that burned.
Q: Why type of work do you do in the studio?
A: I'm a creative director and digital image artist by trade with many aspects of my business requiring a light-controlled studio space to work and shoot in. I'm also a seasoned chef and food photographer and hope to continue building out the interior with a commercial kitchen for hosting demonstration cooking classes. I look forward to finding more great lights from Barn Light Electric to brighten up the space when ready.
Q: What was your design direction as you considered lighting for this space?
A: Not wanting to change the streamlined, industrial design of the building entirely, I chose to spruce up the exterior with a fresh coat of paint and add an authentic craftsman-style façade to the front. I was intent on blending this woodsy aesthetic with the existing corrugated siding. My goal of creating a more alluring approach by using clear, all-heart redwood and western cedar turned out perfectly. For the finishes, I took color clues from the wet tree bark near the site, a practice that reminded me of what Frank Lloyd Wright once said, "Harmony with humanity and its environment."
Q: You started with one shade style but switched to The Original™ Warehouse Gooseneck Light — what prompted your change of heart?
A: After additional review of your many lighting options, I switched to the Original™ because not only was it made in-house in the USA, but it can be customized with a far superior, baked-on porcelain finish. It was also more true to an original barn light and integral to the design continuity I was after. I wanted everything to be as PC (period correct) as possible. To me, lighting is just as critical a step toward success as utilizing the right materials, hardware, and window glazing techniques. After hanging the 200-pound doors and seeing the dramatic statement they made, I knew I would need an equally impressive lamp. The Original™ was just right for the task balancing the visual composition nicely. The protective glass guard also blended best with the vintage industrial lights I already had in place.
Q: Why did you choose the Metallic Chrome finish for this fixture?
A: I chose the metallic chrome primarily because of its durability. The period correct finish and its rich beauty perfectly complement the oiled wood façade of the studio. It also has the deepest and most lustrous color I've ever seen, especially apparent on the huge 20″ shade. The baked-on porcelain enamel finish is a rugged, yet refined process similar to the antique highway and gas signs that have lasted for so long across America. For me, there's no way paint would have sufficed for such an exposed exterior in the harsh SoCal sun.
Q: Now that your light is up, what do you like best about it?
A: I think I'm most satisfied and happy to have found a company offering a product that's so "vintage" in appearance without the slightest compromise in quality. I looked high and low at many "big box" lighting stores and just couldn't find anything that held up to my uncompromising standards. This needed to be a light that would last many decades since my family and I were going to be looking at it every day on our property. It's now the perfect jewel set above our studio doors and it sheds such an inviting glow each night for us to enjoy. Every time we walk by, day or night, we literally stop in our tracks to take in the spectacular view.
You guys have a remarkably diverse selection of products in this sector so I'm sure I'll be back. I thank you all for helping me with my order and the ease of fulfillment through a well-oiled website, friendly customer service representatives, and a carefully boxed delivery to my front door.
Photos courtesy Larry Evans