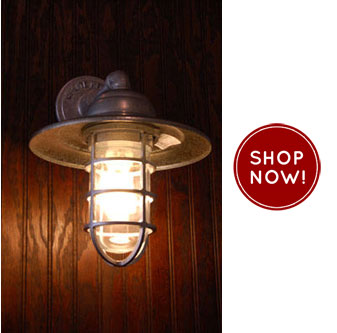 The Difference Between Wire Guards & Cast Guards
One of the most common inquiries we receive from customers regards our optional accessories and lighting hardware. These accessories can be added to many of our products at the time of purchase – or a few of them even come standard with glass jelly jars and cast guard units.

"What is the difference between a Wire Guard (WGU) and a Cast Guard (CGU)?"
The difference between a Wire Guard (WGU) and a Cast Guard (CGU) is the type of metal guard surrounding the light bulb or jelly jar glass. The WGU has a thin, wire construction that is very light weight, while the CGU has a slightly heavier and thicker frame. Oftentimes, these guards are placed on light fixtures that are used in rough, commercial environments because they serve as protection for the inner light bulb and glass jelly jar. Design trends today prove that they're just as fit for residential with popular applications being the front porch, modern office settings or even used within children's playrooms.
These guards can be easily installed or removed for light bulb changing without having to remove the fixture from the wall or ceiling. Jelly jar units hang down from the center of the shade and take mere seconds to install – simply twist or screw each unit into place before placing the cast guard or wire guard over top.
Additional or replacement wire guards, cast guards, or glass jelly jar units can be re-ordered from Barn Light Electric