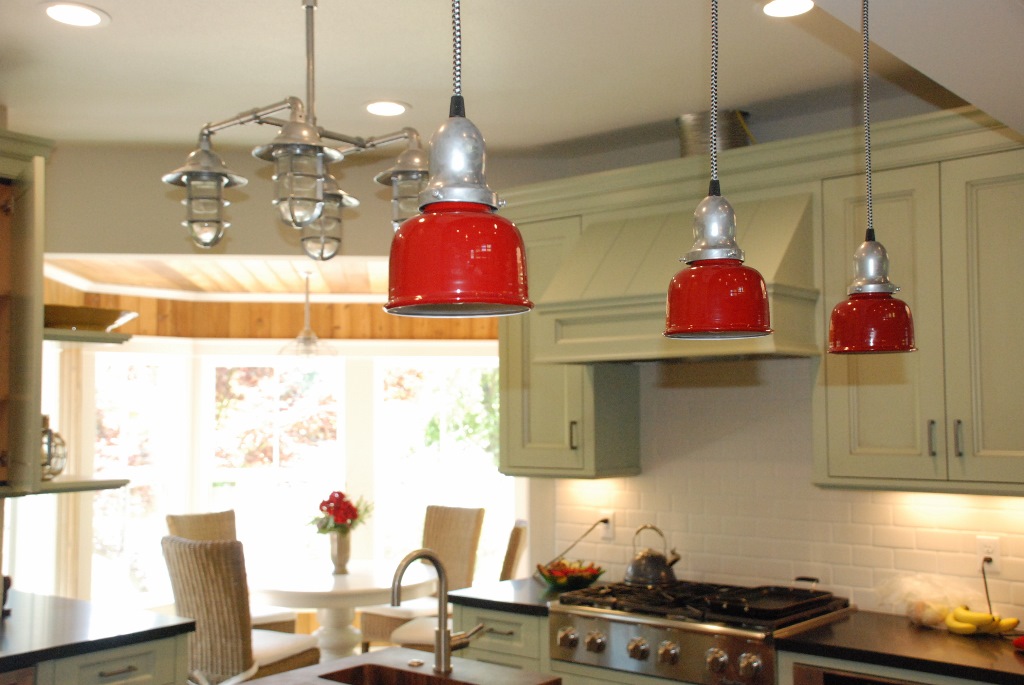 Industrial Lighting Fixtures for Aesthetic Remodel
When Chris, of Penn Valley, California, started looking for new lighting for his home remodeling project, he wanted something completely different from the light fixtures he kept finding on the Web.
"I wanted the style to have a country feel, a touch of chic, with a soft industrial feel too," Chris says. "Barn Light Electric really pulls that off." Chris started ordering lights and the more he looked, the more he liked. He was attracted to many of our rustic industrial lighting fixtures including the multi-light pendants in our Chandelier collection.
"I love the Foundry 4-Light Chandelier in the kitchen!" Chris says. "It has the perfect containment over the island." He customized this industrial ceiling pendant with a Galvanized finish, heavy-duty cast guard and ribbed glass.
For the breakfast nook just off the kitchen, Chris chose the Blue Collar Stem Mount Pendant, a utilitarian light featuring a wire guard shade that allows plenty of illumination. Like the Foundry Chandelier, this fixture is American made and is customized with a Galvanized finish and ribbed glass.
Three Fargo Pendant Lights highlight the counter space between the kitchen and family room. Chris brought some color into the design scheme by customizing these cord hung pendants with a Barn Red finish, a black-and-white cloth cord, Galvanized cup, and Edison light bulbs.
"I wanted a splash of color and the red shades of the Fargos allowed me to mirror the barn red island in the kitchen," he explains. "I love all the customization options at Barn Light Electric."
The dining table needed a larger light so Chris opted for the substantial Factory Overhead 6-Light Chandelier, a rugged stem mount light that fits perfectly with the industrial lighting theme in the kitchen. Chris chose a Bronze finish for this American-made chandelier to warm it up a bit.
In the hallway, Chris ventured into our Wall Sconce collection and found the Streamline Industrial Guard Sconce. Customized with Galvanized finish, heavy-duty cast guard, and ribbed glass, these period wall lights were inspired by the 1930s Streamline Modern style.
"Much of what I chose was in the Galvanized finish because it gives a slight industrial feel and looks great against deep wood floors and beams," Chris notes.
For over the pool table, Chris chose a similar looking fixture with three Industrial Guard Pendant Lights. The subtle shade helps focus the light down over the playing surface and continues the industrial feel. Chris even added a rustic touch to his ceiling fan with the complementary Machine Age Cast Guard Ceiling Fan Light Kit.
"I love the quality of my BLE fixtures. They're really beefy and substantial, not chintzy at all," Chris says. "And they give me exactly the look I was going for — vintage, yet chic and industrial."
Photos courtesy of the homeowner
Contractor: Scott Spencer Construction, Grassy Valley, CA
Cabinets: Walden & Co.
Counters: Surface Art