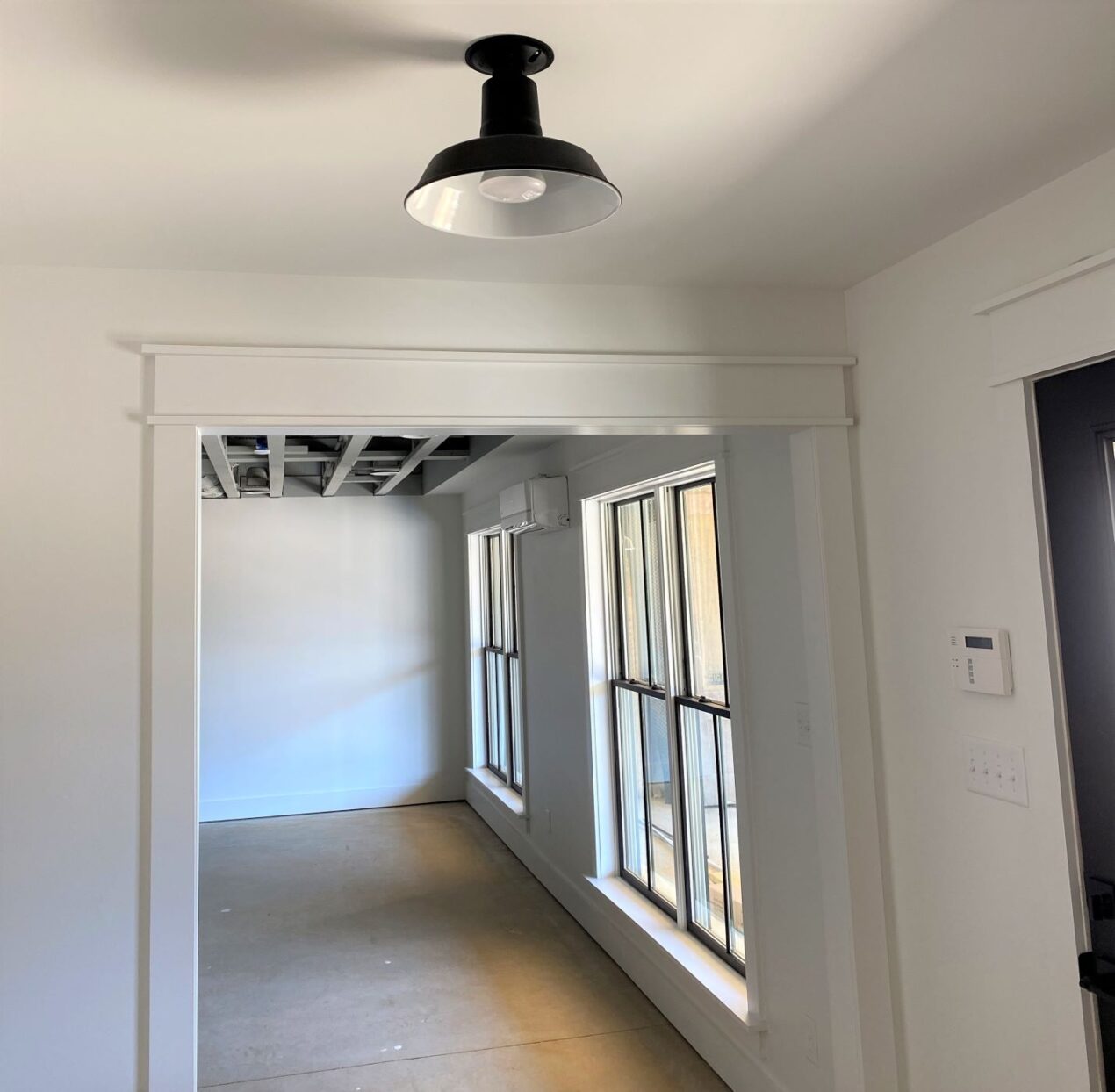 Flush Mount Pendants Bring Style, Brighten Up Tight Spaces
Every house I've ever lived in had at least one room where the ceiling height was an issue. The basement in Maine was described as "cozy" by the realtor. And in Tennessee, we yelled "duck!" to anyone over 5'10" who walked into the house or they would bump their head on the knotty pine ceiling.
Cozy is not all bad, but low ceilings can make it difficult to choose lighting. And if your tight space has no natural light coming in, such as in an interior laundry room, it's even more important to choose appropriate lighting.
Luckily, we have an entire collection of Flush Mount Lighting with a range of styles and sizes to choose from for your space. One of our most popular RLM-inspired warehouse shades is the Barn Light Original™, a true classic when it comes to barn lighting. Above, you can see the Original™ Flush Mount in two different settings — one in a small laundry room and the other in a living space. Both customers chose to customize their flush mount pendant with a wire cage for a vintage industrial look.
Perhaps you're a fan of Schoolhouse Lighting — those iconic glass shade pendants that were seen not only in schoolhouses but in post offices, courthouses and other public buildings back in the 1930s. Now you can get the look in a semi-flush mount setting with the Primary Schoolhouse Semi-Flush Mount Light. This American-made light features hand-blown glass and two shade sizes to choose from. You can customize the milky white globe with an opaque painted band of color to dress it up even more.
For a nautical hint in a space-saving fixture, consider the Flush Mount Guard Sconce. Inspired by nautical cast guard and glass lights, this compact, yet stylish fixture offers plenty of light through the cast guard and glass and can take on a variety of looks from rustic to retro depending on your choice of finish color. You can further customize this rustic fixture with a thick cast guard versus the standard then choose one of six glass options.
And now all of our rustic fixtures come in LED so you can save time and money on energy and maintenance costs. Don't miss the LED Collection which includes pendants, goosenecks, wall sconces, and chandeliers. LEDs use 75 percent less energy than incandescent bulbs and are environmentally friendly with no harmful mercury. Learn more about the benefits of LED lighting here!