Stylish Modern Lighting For A Retro Black & White Bathroom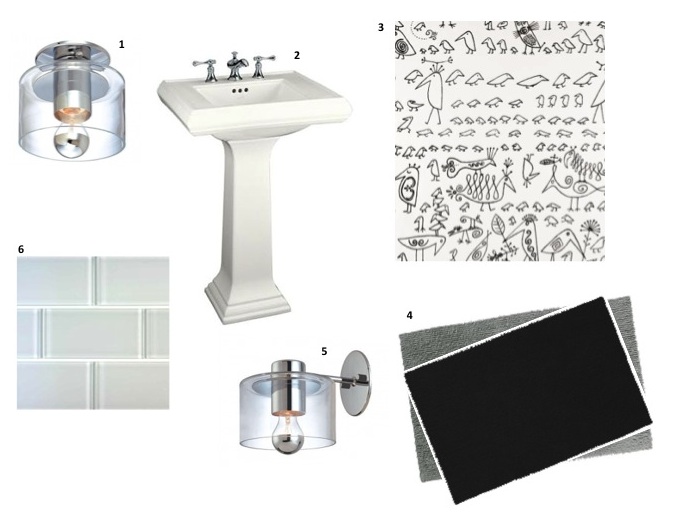 1.) Barn Light Electric Crystalline Surface Pendant: $185.00
2.) Kohler Memoirs Pedestal Sink: $310.15
3.) Schumacher Aviary Wallpaper:
4.) Ikea TOFTBO Bathmat: $9.99
5.) Barn Light Electric Crystalline Wall Sconce: $205.00

6.) White Subway Tile: Prices Vary
Inspired by the "sketchy" wall paper I've been seeing lately and an extreme love for subway tile in any color, I'm pleased to introduce today's creative spin on a modern black and white bathroom. Subway tile is traditionally used in kitchens and bathrooms and act as a back splash or line shower walls. Wallpaper has been perceived to be a thing of the 90's – remember those nasty country floral patterns and ducks with bonnets? With its time consuming application and removals, not many do it yourselfers are willing to tackle wallpaper themselves, however today, easy instillation how- to's and an array of choices again make wallpaper a great choice when decorating. Don't want to take the time searching for the right pattern or color? Some companies even specialize in completely custom designs, simply upload your files and it will be delivered to your doorstep.
If your pattern is busy, consider only doing the top half of your walls – line the remaining four to five feet below by extending subway tiles around from the shower. A square pedestal sink with clean, sharp lines keeps with the geometric theme. Accessorize as you wish or keep it simple with plush hotel towels and inexpensive bathmats from Ikea.
Lighting could be taken a couple ways – either very modern or vintage inspired. Subway tiles were popular at the turn of the 20th century, therefore vintage style sconces would be an acceptable choice. But since selecting such a modern inspired wallpaper, we suggest the Crystalline Wall Sconce and Surface Pendant from Barn Light Electric. Their polished chrome bases compliment the sink (and hopefully shower) hardware and their pure glass shades allow light to shine down and all around the room. Whether on or off, this glass and chrome duo will become focal points and add additional modern flair to your modern space.