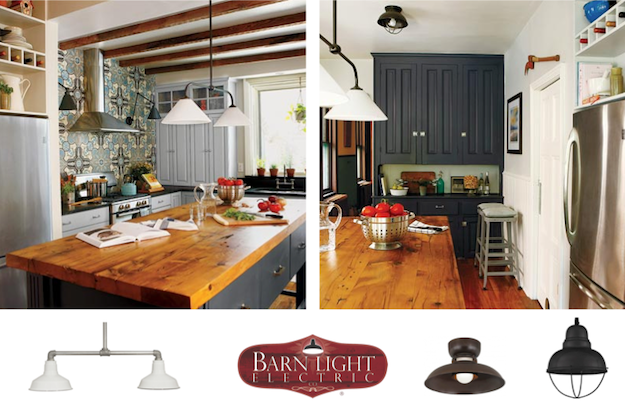 Stylish Barn Lighting for Modern Tastes
The photos today come courtesy of a recent feature on This Old House online. From what started as a stripped down, bare bones (and barely decorated) kitchen, soon received an extreme transformation by its owners in Philadelphia. As with many older Rowhouses, the rooms had been separated by numerous walls, not allowing much open space for entertaining or larger families. Wanting to incorporate as many original and natural elements as they could (like a built in hutch), the owners found matching cabinet doors and utilized reclaimed fir as the center island counter top. Stainless steel appliances pair with patterned cement floor tiles and vintage lighting to complete the room – ultimately providing 'period charm with contemporary function.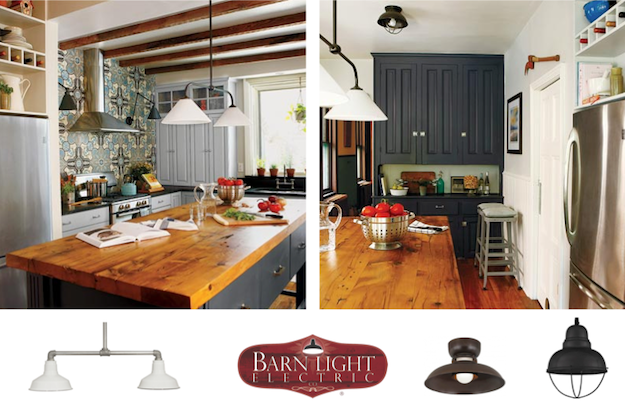 Top Photos Courtesy of This Old House
Products Shown Above L to R:
Benjamin® Polly 2-Light Porcelain Stem Mount Pendant, White Shades, $375.00
Barn Light OB Shallow Bowl Pendant, Small, Powder Coat Rust, $219.00
Barn Light Saddlebred Pendant, Black, $165.00
If you're intrigued by today's feature, and wish to incorporate similar lighting elements into your kitchen or dining room, be sure to check out the lighting featured above. Most homes have limited ceiling junction boxes, and it's not always an easy task to install new ones – that's why the Benjamin® Polly 2-Light Porcelain Stem Mount Pendant is perfect for placing above kitchen islands, dining room tables, or other areas where larger chandeliers won't work. Two porcelain enamel shades branch off from one stem mount, ultimately offering double your overall light without taking up a large amount of overhead space. The clean, crisp white shade brings both industrial and country styles into your home.
Next, in the distance you will notice a small black, flush mount light. For a similar look, consider an OB Shallow Bowl Pendant or a Saddlebred Pendant. The OB Shallow Bowl Pendant stays tight to the ceiling and out of the way, while the Saddlebred Pendant can be cord hung – letting you to adjust the pendant height before installation, or allowing you to swag the fixture when overhead junction boxes are not centered above your table. These charming pendants can be customized in numerous finishes and sizes so that you can bring the perfect light into your home.