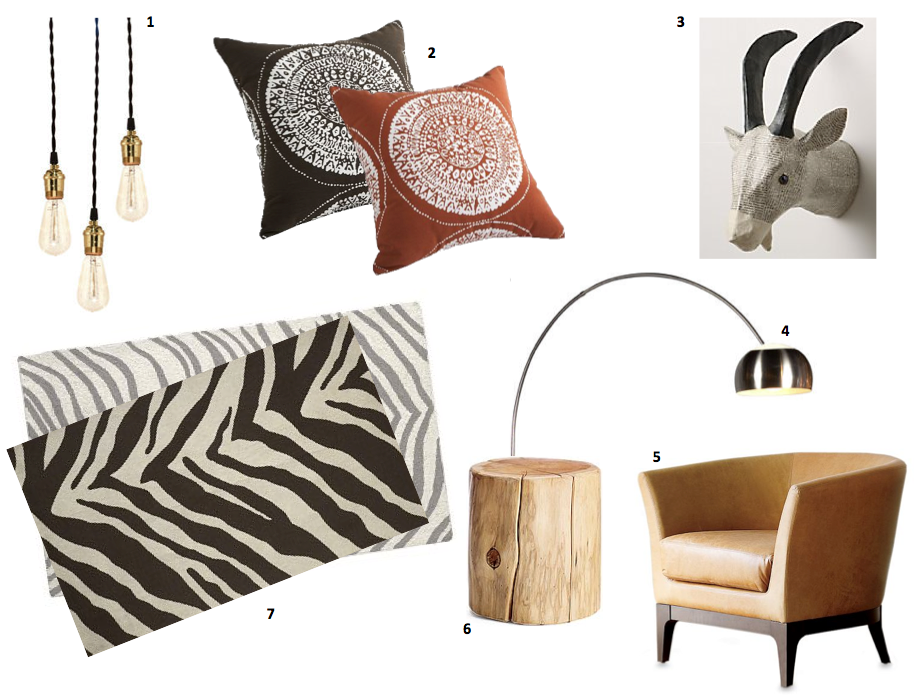 Style Guide: South African Inspired Lighting & Decor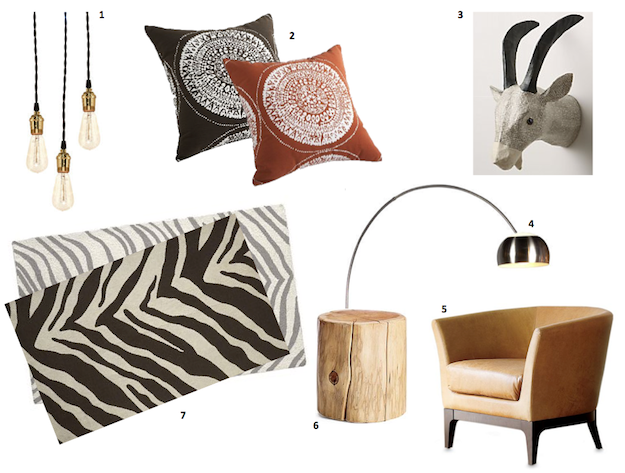 1.) Minimalist Polished Brass Pendant + Edison Bulbs: $118.99
2.) West Elm Sundial Outdoor Pillow: $29.00
3.) Anthropology Savannah Story Bust, Gazelle: $68.00
4.) Barn Light Electric Bo 60's Floor Arc Lamp: $415.00

5.) West Elm Tulip Leather Chair: $699.00
6.) Natural Tree Stump Side Table: $199.00
7.) Safari & Zebra Rugs: $549.00-$749.00
With all the previous weeks' talk of World Cup in South Africa, we were inspired by the variety of animals and prints we saw. Each piece represents years of culture and are often hand made. This week's online shopping trip and Style Guide led us to creating a space dedicated to such a beautiful country, most of us can only dream of visiting.
Most of our findings today come from Barn Light Electric and West Elm, a division of Pottery Barn and Williams Sonoma. Similarly priced to Ikea, their furniture and accessories are ideal for dressing up apartments or redecorating on a budget.
As with traditional African decor, we brought in several elements and textiles by combining animal prints, wooden accent tables, and leather club chairs. We added a few accents with warm, natural toned pillows and a one of a kind Gazelle bust (also available in an equally awesome Rhino or Giraffe). These pieces are ideal for several areas in the home – simply throw in an oversized, white down comforter with a wood headboard for a bedroom, or add in a dark desk to jazz up a home office or den.
No room is complete without proper accent lighting. For this we chose to group together several Minimalist Polished Brass Pendants with Nostalgic Edison Bulbs. Their simplistic style does not add to the business of the prints, but merely brings in a touch of sophistication by quietly dropping in and providing a soft glow. To be placed by the club chair, we chose the Barn Light Electric Bo 60's Floor Arc Lamp. This retro styled lamp swings over the chair and is ideal for studying or weekend reading. Its dark toned shade, resembles that of natural wood and paired with orange, brings in a touch of retro wonder.