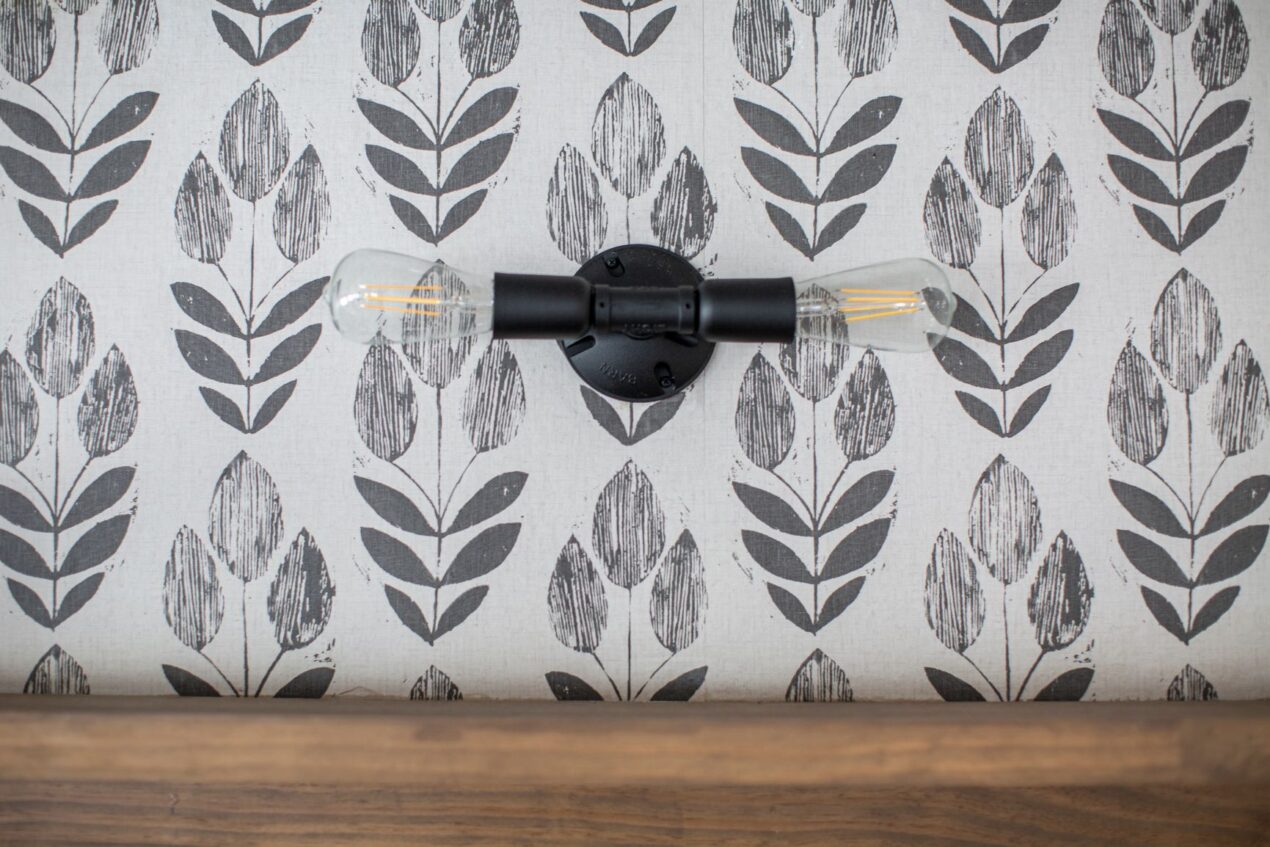 Striking Patterns, Colors Highlight Wallpaper Wednesday
If the Barn Light Electric Instagram feed is any indicator, wallpaper continues to be a favorite tool for designers and homeowners alike. So we're here with another Wallpaper Wednesday post chock full of inspirational photos! In case you missed our first post, click here to see it. And don't miss this post which focuses on bathrooms with amazing wallpaper accents.
One of our favorite designers is Raili Clasen, who, according to one of her clients, offers "great design with a wink." Here's a classic example of Raili's whimsical touch in a bedroom renovation for two boys. The palette of gray and navy is punctuated by a Double Market Industrial Guard Sconce in a bright Sunflower finish that pops from the wavy wallpaper. This handcrafted wall sconce also features a standard cast guard and clear glass.
In this bedroom reno for two young girls, designer Maggie Natarelli played to the girls' love of color. Starting with an eye-popping wallpaper, Maggie opted for sleek Downtown Minimalist Wall Sconces to create balance in the space.
She customized these American-made lights with a Delphite Blue finish and installed them bulb side up so small fingers wouldn't be tempted to touch the hot bulb.
Colorful wallpaper adds a happy element to this mudroom from @NewHomeOldSoul balanced by the rugged industrial look of the Atomic Topless Double Industrial Guard Sconce. This rugged sconce features a Black powder coat finish, clear glass, and wire guards.
Homeowners aren't the only ones in love with the endless variety of wall coverings. Commercial venues often use wallpaper to create eye-catching accents in their design and branding schemes. This beautiful wallpaper serves as the backdrop to this cozy area next to the bar at Loyd Have Mercy in Florida. The restaurant was featured in this blog post when the cast and crew from Restaurant: Impossible rolled into town to spearhead renovations.
At Chook Chicken in Denver, the owners embraced a neutral color palette but went wild on one wall. A row of Downtown Minimalist Cord Pendants illuminates the space without competing with the kaleidoscopic wallpaper. These modern pendant lights are customized with Charcoal Granite cups and black-and-white cloth cords to add a hint of color and texture.
If you create a space with wallpaper and Barn Light fixtures, be sure to share on Instagram! Use the hashtag #mybarnlight and you may see your photo in the next Wallpaper Wednesday blog post!