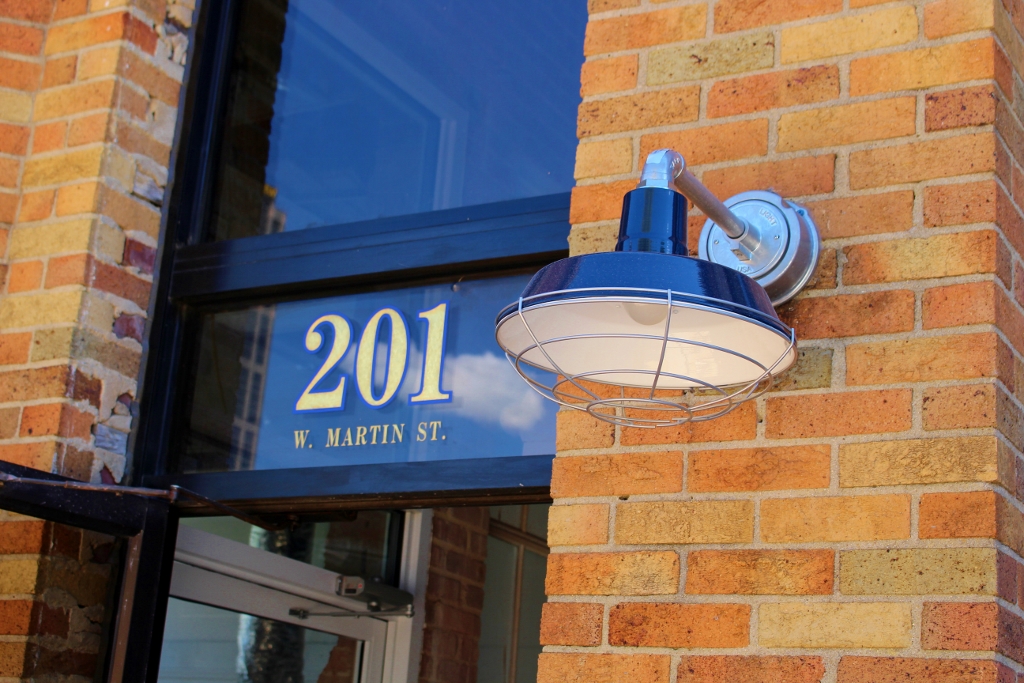 Sneak Peek | Barn Lights Going Up at NC Job Sites
Who doesn't love a good reveal?! We so appreciate when customers share photos of their lighting projects as it brings full circle the process that starts in our manufacturing facility with a simple sheet of metal. Customer photos are a great inspiration for anyone in the planning stages of a project, and our Photo Gallery is chock full of pictures of both residential and commercial spaces that feature our American-made lighting.
It's also a special treat to see projects that are still underway — the not-so-perfect "before" spaces as lights are going up, but are not quite ready for the reveal.
Last week I traveled from one side of North Carolina to the other checking out some ongoing construction projects that will feature Barn Light Electric lighting. Starting in the city of Asheville, located in the western Carolina mountains, I got a sneak peek at the rooftop bar going up at Highland Brewing Company.
With loads of reclaimed wood and rustic metal accents, this top-of-the-brewery location will feature 20 Original™ Warehouse Gooseneck Lights and beautiful long-range views of the mountains.
Contractor Brock Ashburn gave me a tour of the space which was bustling with electricians, painters, and delivery people all scurrying to their specific tasks. A soft opening is scheduled for May and, on this day, gooseneck barn lights were going up!
Featuring a 16″ shade with a Galvanized finish, these gooseneck lights are being mounted to light poles on the sidewalk leading from the parking lot, along the entryway, and upstairs on the roof as well. Brock noted that the size and shape of these handcrafted lights will throw the light downward to provide plenty of focused light without a lot of glare.
Leaving the mountains behind, I set out for Raleigh where the owners of Whiskey Kitchen opted for LED Lighting to highlight their new restaurant. Office manager Lareesa walked me through the renovation taking place downtown in a 1920s-era building that once housed the Firestone Tire Company.
Much of the bones of the old building are being saved including the brick walls which will complement exposed ductwork above and concrete flooring below.
Outside, an Original™ Warehouse LED Gooseneck Light brightens the doorway.
Inside, Industrial Guard LED Sconces line the walls while Original™ LED Warehouse Pendants hang from the rafters. All of the lights feature a Navy powder coat finish and a warm white LED.
Be sure to check back in a few weeks when we feature these completed spaces. We will definitely be visiting again soon!