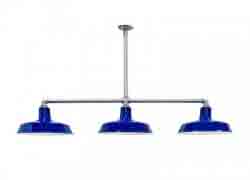 Show Off Your Team Colors With Porcelain Stem Mount Pendants
When it comes to team colors, sports fans can never show too much pride. Whether you're a football fanatic or a sports bar owner, team colors are more than just a uniform decoration – they're traditional symbols that unite people of all different ages and backgrounds. If you're looking for a unique piece to represent your favorite team, consider the Benjamin® Fortified 3-Light Porcelain Stem Mount Pendant.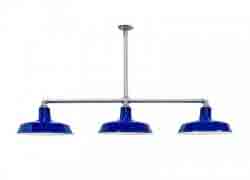 With eight different finishes to choose from, you can choose one primary color for the light or alternate the shades to match your team's colors! For instance, New York Jets fans will appreciate the white and green color scheme of the Benjamin® pendant on the top right. Other red and white shade combinations pictured on the top left would be a great combo for fans of the Nebraska Cornhuskers or the Alabama Crimson Tide! If that's not what you've been searching for, that's okay too. Shown on the right, you'll see our standard Cobalt shades that are sure to score points with fans of the Orlando Magic, Indianapolis Colts or L.A. Dodgers!
The Benjamin® Fortified Stem Mount Pendant is a rugged industrial lighting fixture and a man cave necessity that will make the perfect addition over a pool or foosball table. Many game rooms and bars are filled with memorabilia on their walls and porcelain gooseneck lights can also be considered to make sure everything is showcased to the fullest!
Thanks to the porcelain enamel finish and durable stem mount set up, this ceiling pendant is in it for the long haul – just like you, the loyal fan! Best of all, the stem mounting and high quality porcelain used for each shade assures that your Fortified 3-Light Pendant will last for many decades – and who knows, maybe even a few championship seasons along the way!