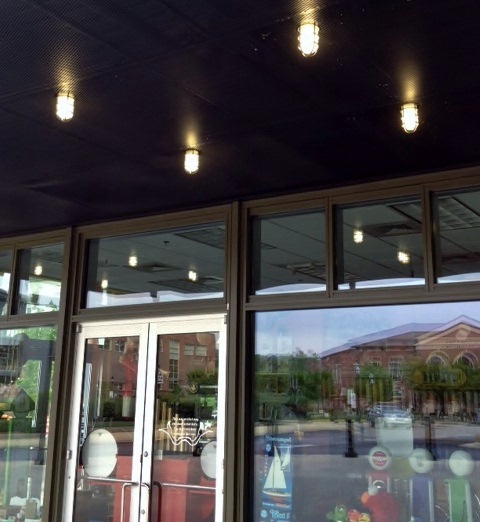 Rustic Wall Sconces Add to Fun at Planet's Coolest Toy Store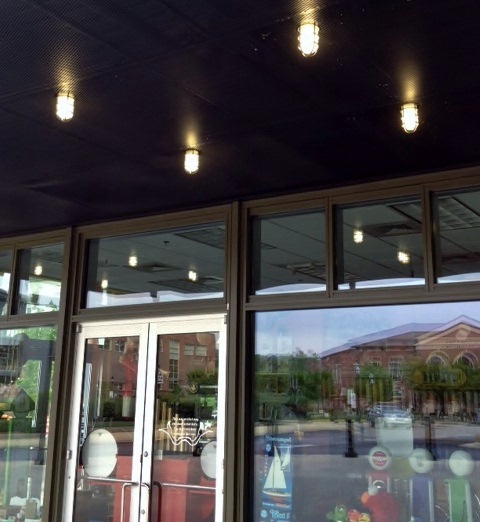 Welcome to O.P. Taylor's, the self-proclaimed Coolest Toy Store on the Planet! With two store locations in western North Carolina and a third in the upstate area of South Carolina, O.P. Taylor's offers just about everything that any kid, of any age, could want in a toy store. From trains, dolls, games, and blocks to arts and crafts, models, science kits, and eco-friendly toys, O.P. Taylor's has it all — plus a really cool name. In its newest location just south of Asheville, adults and kids alike revel in this state-of-the-art fun stop.

Just outside the front entrance, a covered sidewalk meanders through the shopping area which is rather convenient when it rains but creates a dark entryway. This entry, however, is brightened by the patterned placement of ceiling sconces very similar to our Industrial Bullet Wall and Ceiling Light, part of our collection of Rustic Wall Sconces. This compact, yet highly stylish fixture mounts flush against the ceiling or wall which is ideal for any spaces with low ceilings or limited wall space.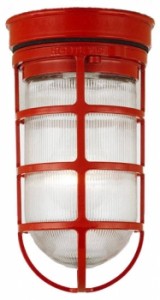 Inspired by the Atomic Era, the Industrial Bullet Ceiling Light reflects both rustic and industrial designs. It comes in small and large shade sizes, and you may choose from more than 50 finish colors to match your design scheme. The glass is also customizable with a variety of colored and textured looks. Need something just a bit smaller for a hallway or half bath? Check out the Industrial Mini Bullet Wall and Ceiling Light which packs a lot of style into a miniature light. Used as a unique accent, this fixture is an affordable way to add just a touch of light. The Mini Bullet comes in more than 40 finish colors and also an array of glass choices from amber and frosted to crackled and colored — all of which can give your new light its own personality and style.