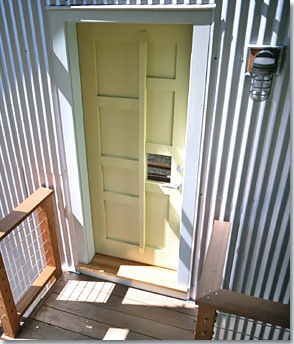 Rustic Sconce Lends Industrial Touch to Architects' Studio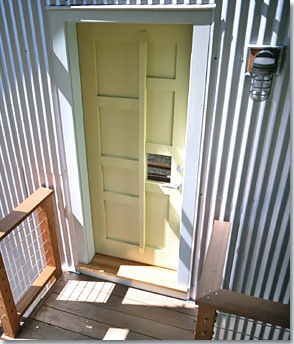 If you love the industrial farmhouse look with its special blend of warm, inviting wood tones and sleek, sometimes harsh finishes, then you will love this architect's studio located in Vermont on the shores of Lake Champlain. From the bowels of an old, dilapidated barn arose an open architectural studio filled with natural light, exposed beams, passive solar heating, and many industrial touches throughout including particle board flooring. Greeting clients at the door is a handsome rustic wall sconce straight from the Atomic Era. With its cast guard and glass design, this sconce looks very similar to our very popular Barn Light Industrial Static Topless Sconce. We love how the galvanized finish fits with the ribbed siding on the exterior wall along with the wood and metal railings.
The Industrial Static Topless Sconce comes in two shade sizes and more than 30 finish options. This fixture is one of our most versatile thanks to the finishing options at your fingertips. Stick with a galvanized finish such as this light for a traditional look or find something bolder and brighter like bright red, medium blue, or polished aluminum for a more modern flair. Further customize your fixture with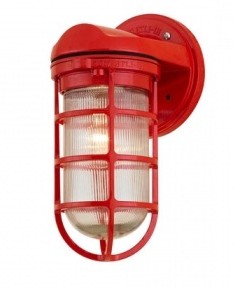 a ribbed, frosted, textured, or colored glass, any of which will lend your fixture a distinctive feel. Rated for wet locations, this space-saving, American made sconce will add personality to any commercial lighting plan. But don't let its rating stop you from using it indoors as well. These wall-hugging fixtures are perfect for highlighting store displays, menu stands, or bath rooms without taking up valuable space.
For a similar look in a larger fixture, check out the Barn Light Wall Mount Double CGU Sconce, a double fixture with twin jelly jar glasses and matching wire guards for plenty of light and a timeless look. For another beautiful example of rustic sconces, check out today's main blog that features a rustic cabin in the Pacific Northwest.
Top photo courtesy of Pill-Maharam Architects