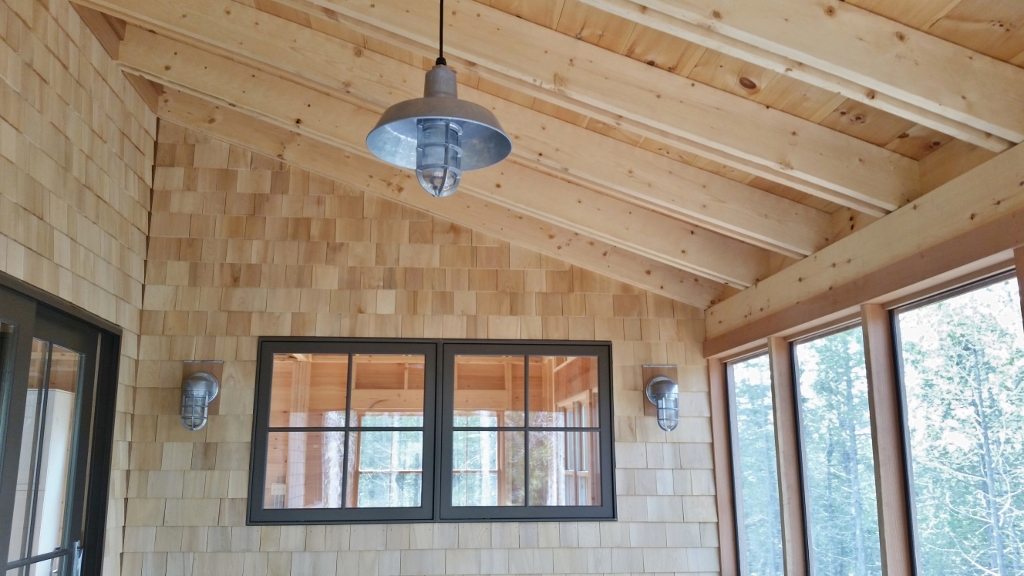 Rustic Modern Lighting for Coastal Maine Home
Building a new home on the Maine coast, Kim wanted the look of a traditional Maine camp with a bit of an edge. Her dream of a rustic modern home with a mix of metals and woods came true this fall as she put the finishing touches on her new space.
"We've owned the property since 2008," Kim says. "It's five acres in the woods and the house is about 1,800 square feet. I mixed traditional materials with more contemporary elements."
When choosing lighting for her new home, Kim searched Houzz where she discovered Barn Light Electric products.
"I wanted something different. The lights need to be functional but provide a strong decorative element that makes a statement," she explains. "Barn Light Electric has a large selection of lighting with many styles that work well together."
Two of the styles that caught Kim's eye were Rustic Wall Sconces and Barn Pendants. On the exterior, Kim chose the Streamline Industrial Guard Sconce to highlight the doors. She customized these American-made wall lights with a Galvanized finish, heavy duty cast guard, and ribbed glass. With roots in the bulkhead style of nautical lighting, these rustic modern sconces give a nod to Kim's coastal location.
"I chose these sconces because they fit the space and didn't project too far from the wall," she notes. Over the front porch, Kim selected the complementary Original™ Warehouse Gooseneck Light. This handcrafted gooseneck barn light also features a Galvanized finish on its 14″ shade and a G14 gooseneck arm. Kim also added the cast guard and ribbed glass to match her wall sconces.
"The gooseneck complements the camp style of the home," she says, "and the cast guard and glass ties both fixtures together."
On Kim's screened in porch, she again combined the look of the rustic modern wall sconces with a classic barn pendant. This Original™ Warehouse Pendant sports the same shade as the gooseneck out front and is mounted with a standard black cord.
And in a nearby powder room, Kim continues the rustic look with an Industrial Guard Pendant. This rugged ceiling pendant features the same Galvanized finish plus a heavy duty cast guard and ribbed glass.
"I chose the Galvanized finish because it looked more modern," Kim says. "I wanted to mix metals in with all the wood and antiques."
Be sure to check next Monday's post as we continue our tour of Kim's beautiful home — you won't believe the kitchen!
Photos courtesy of the homeowner