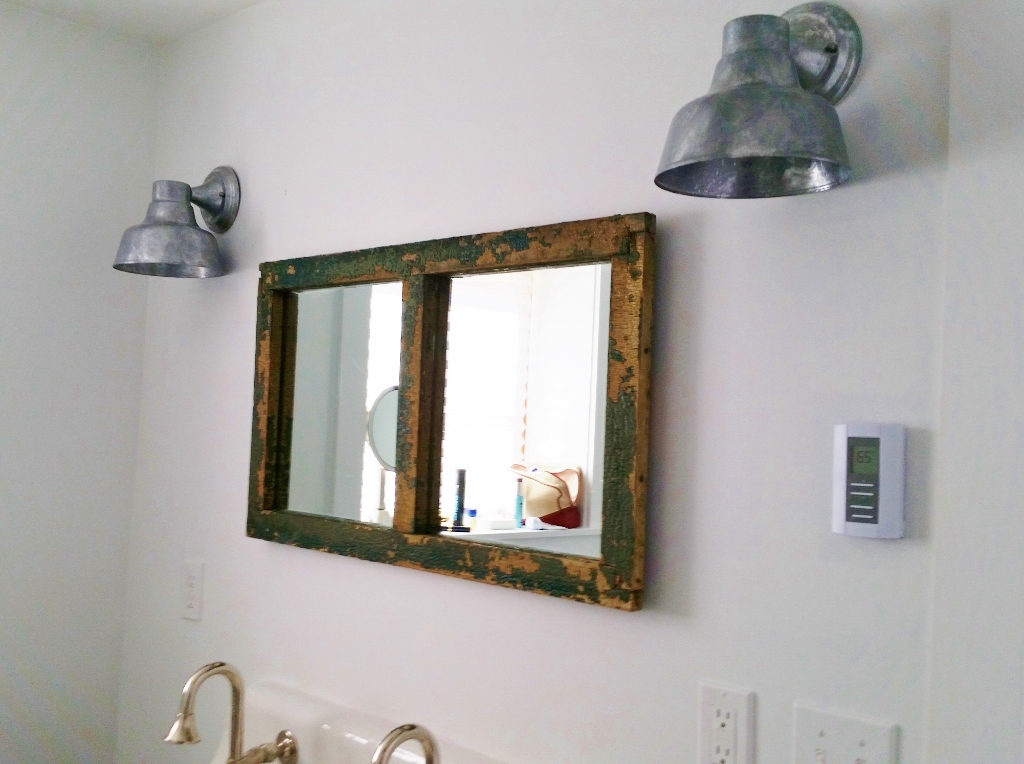 Custom Lighting Offers Rustic Modern Touch to Maine Cabin
Last Friday, we started a tour of a lovely home perched on the rugged east coast of Maine. Kim, the homeowner, used custom barn lighting throughout the new build to create the rustic modern vibe of a traditional Maine camp. Today, we head inside where Kim's use of both traditional and contemporary materials has created a bright and cozy space with a hint of industrial flair.
For the open kitchen, Kim chose The Original™ Warehouse Pendant to highlight her new island cook top and bar. She customized these American-made ceiling pendants with 12″ shades, a Galvanized finish, and standard black cords.
"I chose The Original™ because it was very clean and, even though it is a traditional design, it blends very nicely with the rustic modern look I was going for," Kim says. "It also came in all the sizes we needed for different areas of the home. We could hang it with a simple black cord or use the same shade with a gooseneck arm for a different feel."
The Original™ pendant also brings light to a hallway….
… and to the entrance where family members don coats and shoes.
Kim shows that custom barn lighting isn't just for exterior spaces or the kitchen. She selected the compact Bowie Wall Sconce for this bathroom as the perfect complement to this rustic mirror. These barn wall sconces feature six-inch shades and the same Galvanized finish as Kim's pendant lights.
"I chose the Bowie Wall Sconces because I needed a smaller light for this space," she explains. "They blend well with the Original™ Warehouse shades."
The master bathroom features a large walk-in shower and double vanity. Although the design of this bath offers plenty of natural lighting, Kim chose the Original™ Warehouse Gooseneck Light to bring downward-focused lighting to the vanity and shower area.
This gooseneck light is hand spun from commercial grade aluminum and features the same shade design as Kim's kitchen pendants. The wall lights are customized with the Galvanized finish and a G1 straight gooseneck arm.
"I just love the look of the lights! They are the icing on the cake and pulled the whole look together," Kim says. "Everyone loves them and we are very pleased with the quality and the price of the product."
Photos courtesy of the homeowner