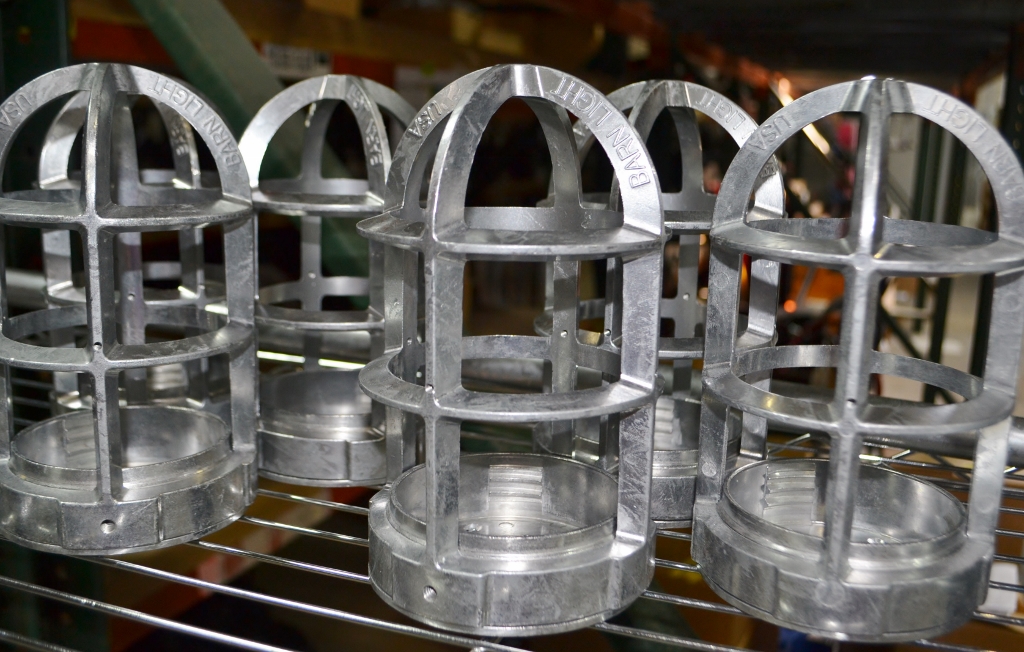 LED Components Add Efficiency, Style to Warehouse Lighting
When we first started spinning our own RLM-inspired barn lights back in 2008, we wanted them to be just like the ones handcrafted in the early 20th century — from high-quality materials, with strict attention to detail, and crafted to last for generations.
Through the years, we've improved our processes, added new options, and expanded our finish selections to allow homeowners to customize these vintage-inspired lights to suit décors ranging from traditional to retro to modern.
And now, thanks to our Research & Development team (check them out in the video above), we are offering a cast-guard-and glass LED option on some of our most popular shades. A variety of our stem mount lights, cord hung pendants, gooseneck lights, and even sign lighting can be fitted with a rugged cast guard that surrounds a jelly jar glass.
Tucked safely inside that glass is an LED driver from Cree, one of the nation's leading innovators in LED lighting. This driver features Cree's 2-Step EasyWhite® Technology to give you the most energy-efficient, environmentally friendly light on the market.
Take this Original™ Warehouse Gooseneck Light pictured above for instance. This hand-spun gooseneck barn light is, by far, one of the most popular porcelain enamel lights we offer. With roots in vintage lighting styles of the 1930s, this wall light sports a high-gloss, long-lasting porcelain enamel finish that will never fade. And now it has the added bonus of an LED light source protected by a rustic cast guard and glass.
Choose from nine different ways to customize this American-made gooseneck light including five shade sizes and 11 durable finish colors. Mounting and glass options are also available along with three different color temperatures options. The one above features a 12″ Black shade, G11 gooseneck arm, standard cast guard, and smoke crackle glass.If you like the more modern look of a deep bowl pendant, the Wilcox LED Deep Bowl Stem Mount Pendant is a great choice for both indoors and out. Thanks to the integrated LED driver, these pendants convert more energy into light instead of heat unlike their incandescent or fluorescent cousins. This not only cuts both your electricity and maintenance costs, but keeps your kitchen cooler too! The one above features a 12″ Galvanized shade, 12″ stem, standard cast guard and honey crackle glass.
Be sure to check out the entire collection of new LED Lighting!