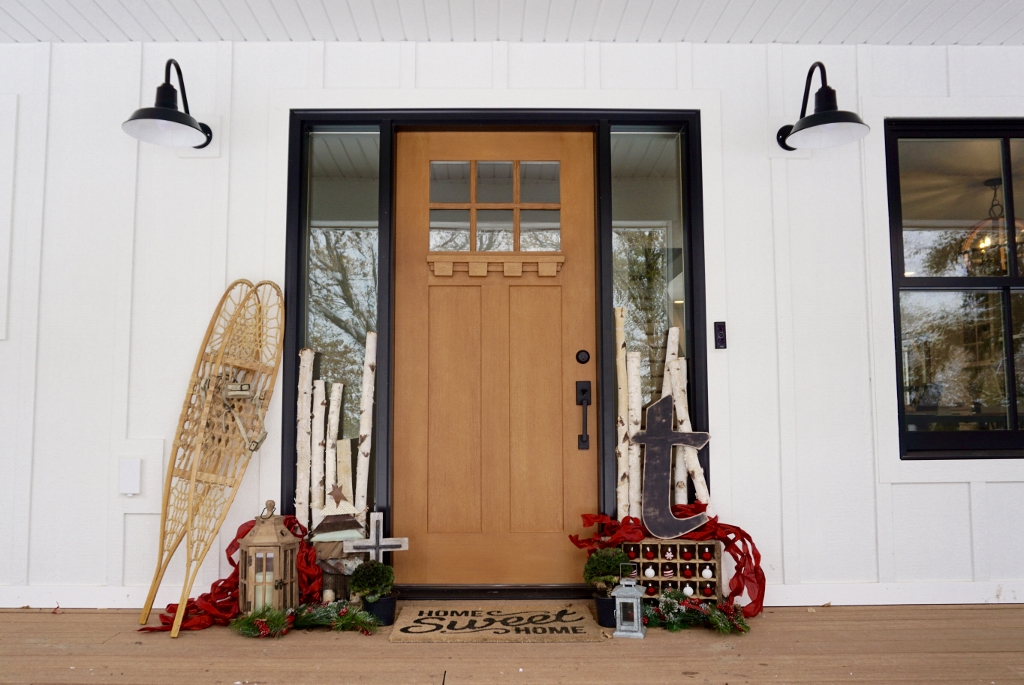 Guest Blogger | The 7 Must-Have Elements of a Cozy Rustic Christmas
Whether you live on a quiet country road or a bustling city street, around the holidays everyone seems to gravitate towards all things cozy and rustic. There's just something so nostalgic and inviting about the idea of a log cabin tucked deep into the snowy mountains, lit by the warm glow of a fire, with nothing to do but get lost in a good book and a warm cup of tea.
And while a cabin getaway isn't accessible for everyone, you can easily create a rustic Christmas wherever you call home with these 7 must-have elements.
Fresh greenery: Greenery fresh from the farm (or your backyard!) is an absolute must for a rustic holiday home, and the decorating possibilities are endless!
Think beyond wreaths and garland, and get a little creative: drape it around a dining room chandelier or sconces; stuff fresh clippings into rain boots by your entryway, empty stockings, or vases throughout your home; wrap pendant light cords; or simply use it as a green table runner.
Pine cones: Not only are pine cones incredibly versatile, but they can often be found for free right in your backyard. Create a beautiful pine cone garland for a twist on the traditional look; use them as a centerpiece with some fresh green clippings; fill an apothecary jar or other glass container; or string them at varying lengths from your windows.
Signs of nature: Add in animal-friendly touches of nature throughout your home to give the allusion of being out in the country. Try deer antlers that have been shed and left behind; use faux furs to drape over chairs, beds, sofas, and stools for an extra lush and cozy touch; or pick up a faux hide and layer it over your existing area rug for even more cushion underfoot.
Warm metals: Touches of warm metals add a little bit of glam to your rustic holiday, and also provide contrast to the natural elements. Fill copper bowls with ornaments or battery-powered string lights for an easy coffee table or console centerpiece; fill a brass pitcher with candy canes, birch branches, or berry sprigs to add height to any surface; or used aged pewter platters to serve up warm holiday treats.
Candles: Take a hint from the Scandinavians and embrace the power of candlelight during this dark time of year. You can never have too many, so use them everywhere! Place candles of various heights around a fireplace; scatter candles, greenery, and pine cones down the center of your dining table for a natural runner; place candles, greens, and ornaments under a glass-covered cake stand for an easy holiday terrarium; and line window sills, mantels, and just about any horizontal surface with these harbingers of good cheer.
Warm textures and textiles: In addition to faux furs, textiles like wool, flannel, and fleece in seasonal plaids and tartans are the surest way to a cozy cabin Christmas. Think blankets, throw pillows, and curtains for the biggest bang, or opt for small doses with felt decorations and plaid ribbons used on the tree and elsewhere throughout the home. TIP: Use a wool blanket down the middle of a table for a cozy runner, or wrap cookie cutters in plaid ribbon for easy tree decor.
Wood: No rustic holiday would be complete without tons and tons of wood. Forage your backyard for twigs, small branches, and interesting bark that can be used in vases, bowls, and other vessels or stack firewood in an interesting way and cover in string lights. When rustic is the goal, there's no such thing as too much wood!
Guest blogger Melissa Andersen is a writer, editor, blogger, and social media manager/consultant for clients such as And North, Kaufmann Mercantile, and The Cousins from HGTV