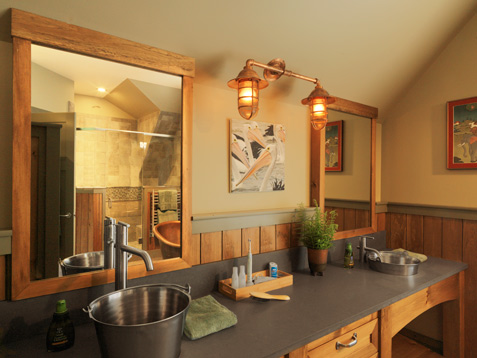 Rustic Copper Chandelier for Modern Shaker Bathroom
In last Wednesday's blog post, we visited a gorgeous home in Vermont built in the modern Shaker style. This style has inspired many designers with its understated details and simple functionality. This home, which takes its design from multisided Shaker barns, is filled with natural materials including plenty of exposed wood, a pebble-and-stone inlaid compass on the floor of the central living space, and lots of windows to bring in the natural light.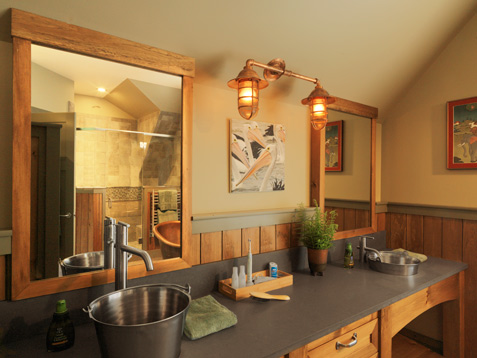 In the bathroom, the wide beadboard and wood-framed mirrors are complemented by the stainless sinks which resemble a bucket complete with handle. The faucets are reminiscent of an old-timey pump handle found on outdoor spigots. And the copper, atomic style fixture above the counter is the crowning touch to this warm, inviting space.
This light resembles our 2-Light Industrial Chandelier "The Partner" which is part of our collection of Rustic Chandeliers. These chandeliers are a great choice for casting a broad span of light over the counter and sink areas in this bathroom. The rustic look of this fixture plays well with the Shaker detailing of the home and by repeating the copper finish in the bathroom, the lights have a consistent look throughout.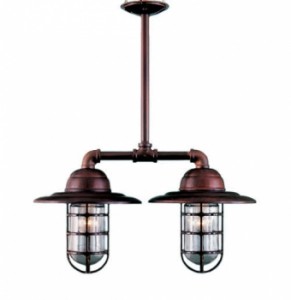 The Partnership light is available in several copper finishes such as brushed, polished, or weathered copper. And as with most of our lights, there are dozens of other finish colors to browse through from traditional looks to our complete line of specialty finishes.
Even the glass on The Partner can be customized with your choice of clear, frosted, colored, or textured glass all of which can give your light a special look. The stem on this fixture comes in sizes from six inches to four feet long or can even be flush mounted if your space requires. These American made fixtures will give you years of satisfaction from the moment you pull them from the box!
Top photo courtesy of Susan Teare and Cushman Design Group