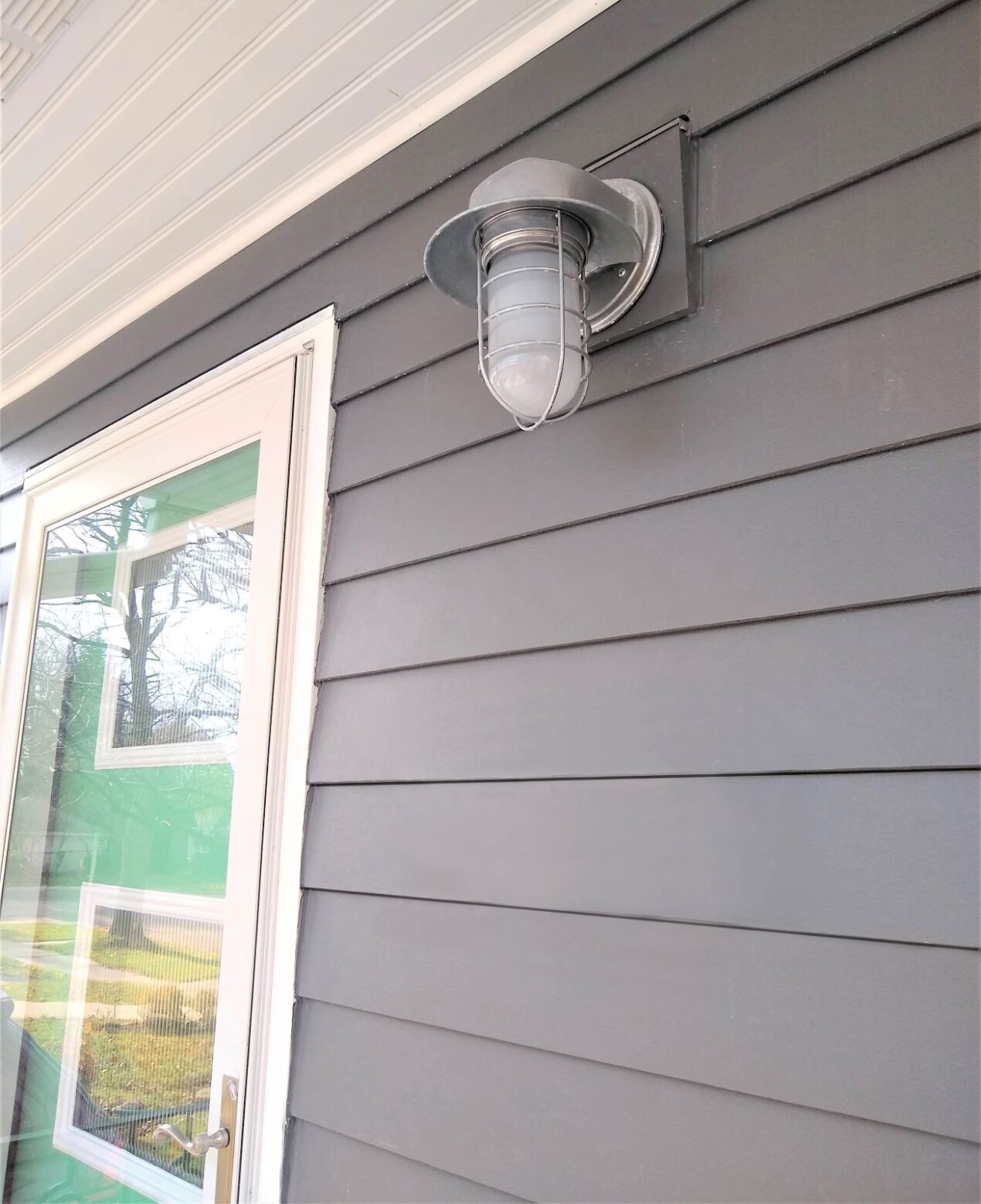 Rugged Guard-and-Glass Fixtures Blend Industrial, Modern Styles
What is your favorite design style? Traditional? Minimalist? Does the current farmhouse trend with reclaimed wood, wrought iron accents, and vintage elements catch your eye? Kim and Dan, of Wauwatosa, Wisconsin, admit to having rather mixed tastes when it comes to renovating their 1950-era Cape Cod home.
"We love mid-century modern, but I grew up on a farm, so I always have a pull to farmhouse and boho as well," Kim says. "Throw a little industrial love in there, and you have mid-century-farmhouse-boho-chic?"
When they started renovations several years ago, Kim and Dan began by replacing their old garage with a more modern one complete with a screened porch. When googling "modern farmhouse style" lighting, Kim landed on the Barn Light Electric website. There she discovered the Streamline Industrial Guard Sconce which offers the perfect blend of industrial and modern details. Kim customized these wall sconces with a Galvanized finish, flared shade, wire guard, and frosted glass.
"We have one by our front door, two flanking the garage door, and one next to the side door of the garage," Kim explains. She adds that the wire guard helps protect the lights from errant tennis balls that her younger child likes to hit against the garage door.
The screened porch attached to the garage sees plenty of use especially on summer nights when the family plays cards. Kim chose a Double Market Industrial Guard Sconce to complement the exterior wall sconces and provide plenty of illumination. This fixture sports the same Galvanized finish, wire guard, and frosted glass as the single sconces.
More recently, the couple decided to give their exterior spaces a facelift by replacing the front door, siding, and some windows. They added much-needed light to the back door with an Amidships Bulkhead Wall Mount Light. This compact fixture is customized with the small size and Galvanized finish.
"We needed something small, but good looking, to avoid the outdoor swing of the door," Kim says. "The industrial look is a plus too!"
In the front yard, an Atomic Industrial Guard Post Mount Light welcomes friends and family to the home. This sturdy post light features a Galvanized finish and frosted glass.
"In addition to all the other styles we like, we love the atomic age look of this light," Kim explains. "We think it looks almost playful, like Bender from the TV show Futurama, which is a definite theme in my garden. We don't get too serious with our design." The frosted glass helps diffuse the light as the family does their part to keep light pollution down.
"I just love galvanized finishes," Kim adds. "I think they're timeless and harken back to my rural upbringing. It mixes style and function in a way that I gravitate towards." Although their renovation projects have spanned several years, the couple are pleased with Barn Light's high-quality lighting that can be customized to suit their eclectic style.
"I think the lights have an urban garden feel which gives the house a casual look. They marry well with the more modern design we like but bring the place back down to earth," Kim says. "I love that the lights we bought several years ago still look brand new and are so durable. You wouldn't know which ones we bought recently and which ones are older."
Photos courtesy of the homeowner