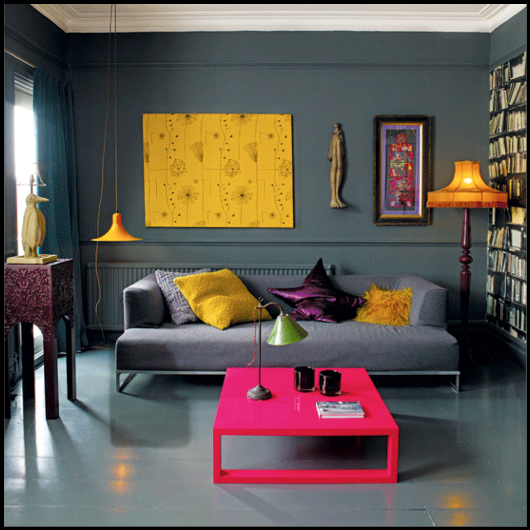 Retro Pendant Lighting Packs a Punch in Vibrant Living Room
Not for the faint at heart, using more than one vibrant color is a huge design dare. In this living room, the homeowner did it right by painting the walls and floor a dark shade of grey. By doing this, retro hues have been balanced out and neutralized. With that being said, just because they are toned down doesn't mean they move toward the bland end of the spectrum. There's no denying that the eye catching pink lacquer coffee table paired with a vintage green lamp creates a force to be reckoned with.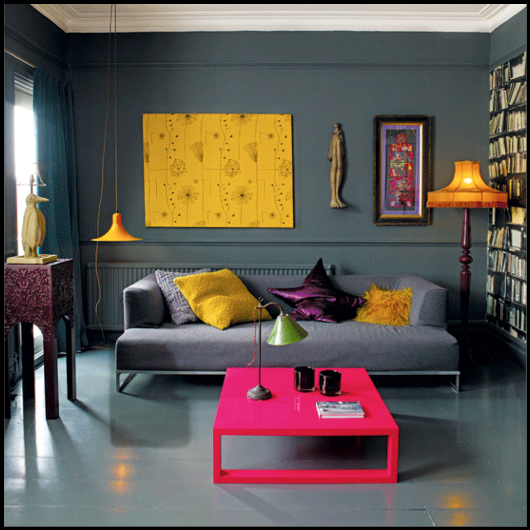 And that's just a whole new story — combining vintage lighting with modern furniture. Risky perhaps, but when done right it creates a big impact, especially in a small space like this. A tall, 1970s inspired floor lamp on the right side of the sofa is offset by yet another retro pendant light. This asymmetrical concept keeps the room from being too heavy on the eyes.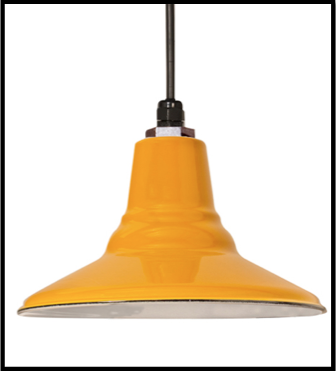 That retro pendant light can be hard to find, however the Ivanhoe® Aero Porcelain Enamel Shallow Bowl Pendant is almost identical. The flared, shallow shade lets light flow freely down and out. Also available in the same shade of school bus yellow, the porcelain finish will stay rich and vibrant for years to come. This is accomplished by coating a steel shade with a baked on porcelain coating. The thick layer of glass therefore maintains it's color, even when placed in direct sunlight.
You may have noticed something peculiar about the yellow pendant in the photo:  the way it is hung is called "swagging." For those of you with inconveniently placed electrical boxes, you probably are familiar with this concept. Simply hang the pendant from a hook in the ceiling, and drape it at your preferred location. We can even include a plug on the end of the cord for your convenience!
Top Photo Courtesy of House and Home UK