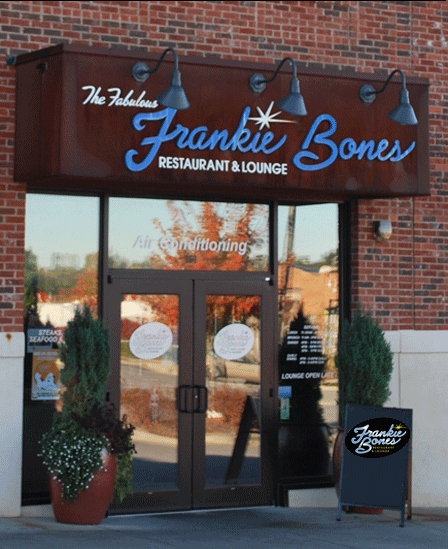 Goosenecks Add Just the Right Angle to Outdoor Signage
Take a step back in time to the carefree days of the early 1960s when Camelot was in its heyday, the Rat Pack ruled, and there was a certain swanky style to restaurants around the country. The Fabulous Frankie Bones Restaurant and Lounge captures this feeling perfectly with "an atmosphere fondly reminiscent of times past … but never forgotten." With locations in Asheville, North Carolina and on Hilton Head Island in South Carolina, Frankie Bones offers classic American-Italian style fare and fun.

Setting the tone right from the sidewalk in Asheville are gooseneck angle shade lights.  Three fixtures perched atop the sign beam directly onto the Frankie Bones logo illuminating not only the sign but the entryway below. These goosenecks get their name from the curved mount that allows them to extend outward away from the wall and properly light up your artwork, outdoor sign, or other feature. These angle shades are similar to Barn Light Electric's Angle Shade Gooseneck Sign Lighting. These American made fixtures are crafted with the highest quality materials to ensure your lighting will withstand anything Mother Nature dishes out for years to come.
Barn Light's angle shades come in several different sizes and styles to fit your space and there are dozens of gooseneck arm sizes to choose from. Exterior finishes can run the gamut from black or natural sand to bolder, more modern colors like cobalt blue or bright red. If you choose one of our popular metallic finishes such as copper, bronze, or brass your fixture will have a style all its own. Add a wire cage for a retro look and don't forget to browse our selection of glass choices.
Have a smaller sign or a posted menu you'd like to highlight? Choose our Barn Light Mini Angle Shade, shown below on the right, which borrows design elements from our larger shade but is the perfect accent for smaller spaces.
Top Photo Courtesy of The Fabulous Frankie Bones Restaurant & Lounge