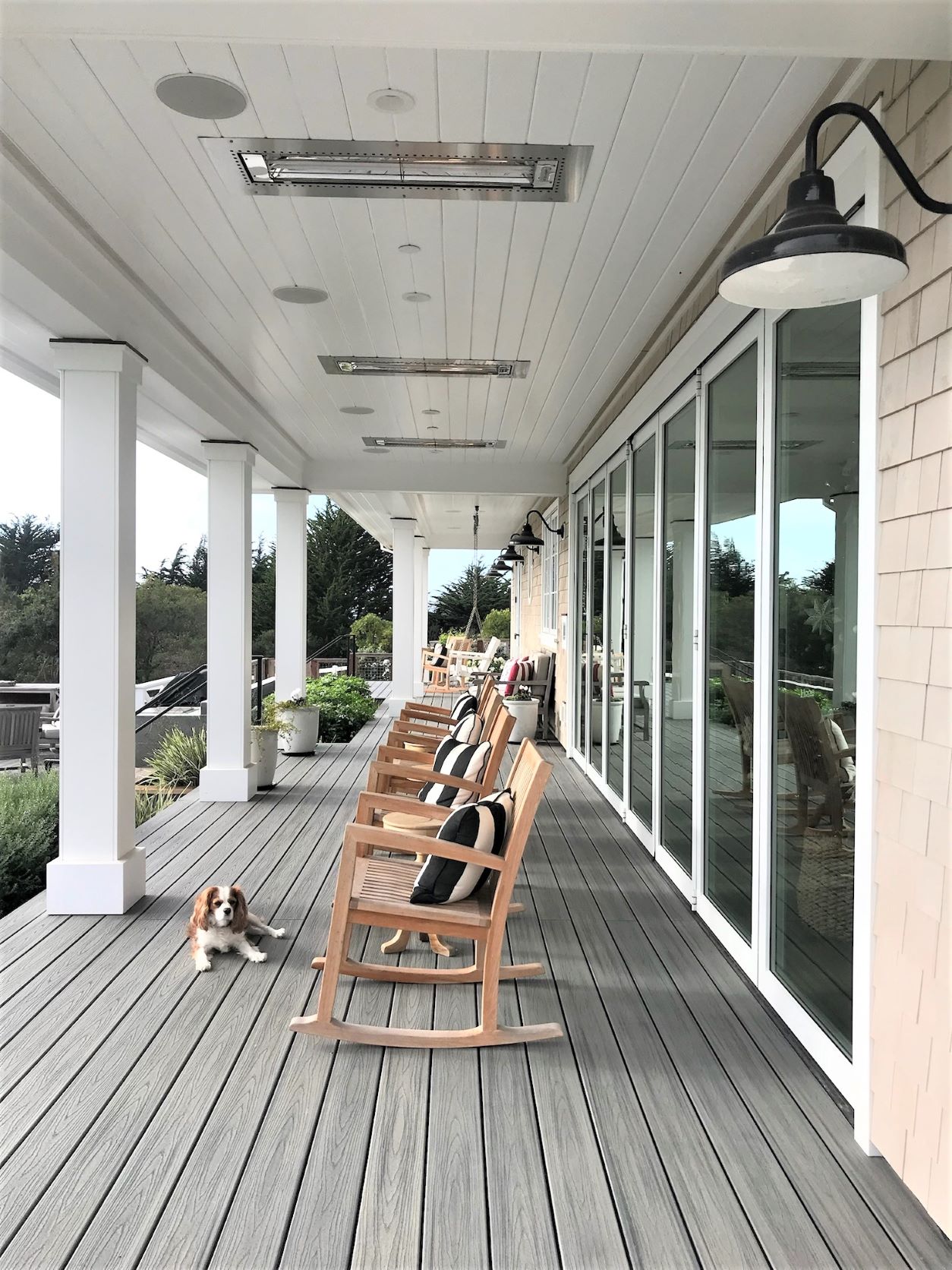 Repeated Lighting Element Creates Harmonious Design on New Farmhouse
When Kim and Paul decided to build their forever home, they planned not only for their current needs but for the future as well. In addition to the main home and garage, they built a one-bedroom, carriage-house apartment plus a two-bedroom guest house to ensure plenty of room for future grandchildren to visit!
The family compound is situated about halfway between Santa Cruz and Carmel on the California coast. The three-acre piece of farmland boasts sweeping views of Monterey Bay.
"The day we drove out to see the property, we spotted whales migrating," Kim says. "And that is why Whale Watch, as we call our home, has a whale as a repeated design element." Another design element that is repeated throughout the exterior of the property are handcrafted lights from Barn Light Electric. Kim searched for lighting that would complement the coastal farmhouse look she envisioned.
"The house needed to embody a casual, coastal vibe but also live harmoniously with the surrounding agricultural farmland and native wildlife," she explains. "There are no streetlights in this rural neighborhood, and our county has a dark sky ordinance. Exterior lighting needed to be indirect but also enhance the safety and security of the property."
Kim searched for lights that were well made and could resist the harsh coastal conditions, moist fog, and relentless sun. She was thrilled to find that Barn Light had multiple options including porcelain enamel and natural metals such as copper and brass.
Kim chose the Union Gooseneck Light to accent the exterior spaces of her new home. She purchased 26 of these fixtures, all handspun from commercial-grade steel then finished in porcelain enamel Black. Thanks to Barn Light's array of customizing options, Kim could build each fixture with the appropriate shade size and gooseneck arm for each space.
"We chose the Union for its long-lasting porcelain enamel finish," Kim notes. "The glossy black color really pops against the home's white cedar shingle and board-and-batten siding. And the barn light style gives a nod to the region's rich agricultural history."
On the covered porches, Kim chose 14″ shades with G26 gooseneck arms to illuminate the outdoor entertaining space without protruding into the walkways. The larger 16″ shades on the garage illuminate more of the driveway area and fit with the scale of the architecture. These also sport G26 gooseneck arms.
"The exterior stairs from the carriage house to the hot tub deck are well lit by a 16″ shade which projects out 28″ on a G6 gooseneck arm," Kim explains. "This was a much cleaner and simpler solution than building a row of lights into the stair treads." On the gated entry to the home, Kim used a smaller 12″ shade mounted on a G4 straight gooseneck arm to light the stone pillars.
"After poring over countless photos on the internet, I chose the vintage-inspired Union shade for its classic lines and timeless look," Kim says. "Many neighbors have complimented us on the soft and unobtrusive glow that the lights provide in this country setting. There is nothing fancy or pretentious about this true barn-style light, and I love how it accessorizes our home. It sets the design tone of farmhouse functionality without being fussy. "
Photos courtesy of the homeowner