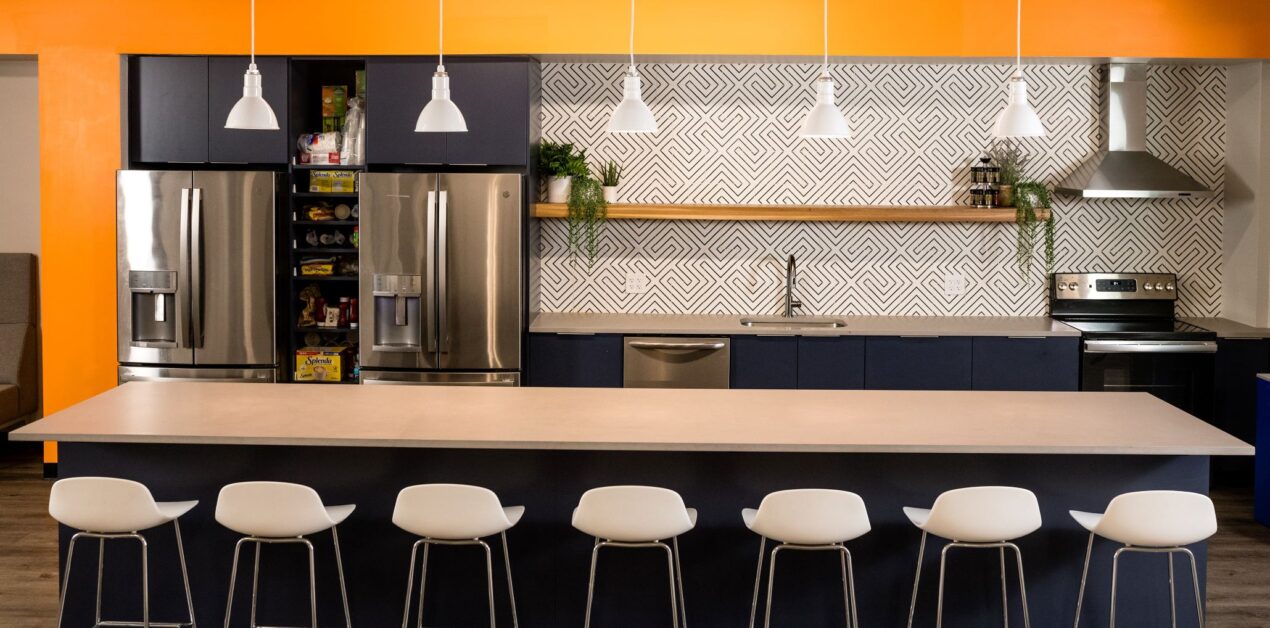 Colorful Industrial Lighting Brings Contemporary Touch to New Office
When the owners of a solar energy company in New Jersey sought to transform a former gym into a contemporary workspace, they turned to the talented hands of Karly Fajardo, design consultant and principal of Block LII Design. Saving only the bathrooms and a large mezzanine platform, Karly transformed the space blending sleek, industrial materials with a colorful palette to create an inviting headquarters for Vision Solar.
"We were going for a clean, modern space with polished industrial touches to reflect Vision Solar's role in the solar construction industry," Karly says. "We infused pops of bright colors and patterns to make the space appealing to young new hires." Color selections were particularly important to Karly as she searched for lighting fixtures to complement the branding color scheme.
In the conference room, Karly chose to highlight the long, central table with Wilcox Deep Bowl Pendant Lights. These pendants are handcrafted and American made with 16″ shades, a Navy powder coat finish, and standard white cords.
"We chose the Wilcox for its industrial silhouette coupled with a modern finish," Karly explains. "The scale of the 16″ shades balances well with our layout, and the Navy gives the room a little personality."
Employees also enjoy a large dining/gathering space which is perfectly suited for lunch and impromptu, informal meetings. The main counter is illuminated by a row of the same Wilcox Deep Bowl Pendants but in a smaller 8″ shade. Karly chose to customize these particular lights with a White powder coat finish and standard white cords.
"We wanted to repeat the deep bowl pendant shape for decorative pieces," Karly notes. "The smaller 8″ scale allows the bold palette of the kitchen finishes to remain the focal point of the space."
And while Karly kept the bathroom spaces in place from the former occupant, she updated the fixtures and finishes. A pop of sunny yellow, a subtle nod to the company name, is provided by Industrial Static Sconces installed between the mirrors. These American-made sconces are customized with frosted glass and a Sunflower finish.
"This is a fun industrial fixture that was offered in the color we wanted," Karly explains. "The Sunflower finish is a nod to Vision Solar's branding, and the frosted glass softens the direct light for those using the vanities." Karly adds that she has used Barn Light Electric fixtures on previous projects and always keeps their easy-to-customize fixtures in mind when looking for a wide color selection.
"The client loves seeing touches of their branding colors throughout the space!" Karly says.
Photos courtesy of Block LII Design and Tessa Marie Photography