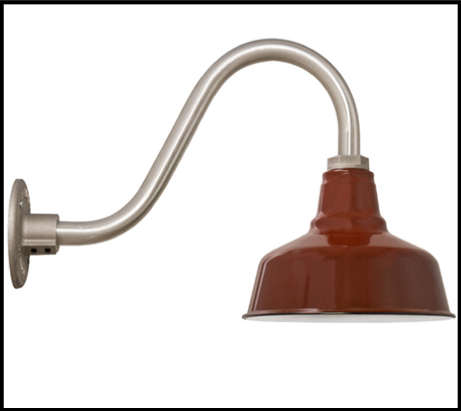 Red Gooseneck Lighting That Draws Your Eye In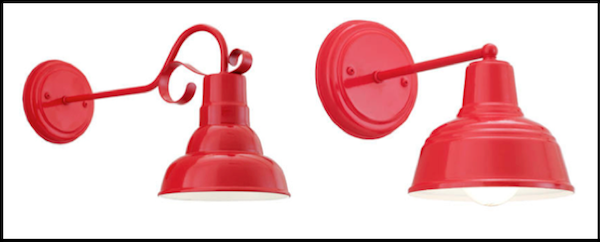 For centuries people have been painting their entryways red as a way to ward off evil spirits, while other cultures use it to welcome positivity and guests into their homes. Red is known for being a color your eye is easily drawn to, just like greens and blues. This could be a reason many have chosen to paint their front doors red, or use the color as an accent wall in their homes and offices. Between the various shades of red available as paint, fabric or even lighting, you'd be hard pressed to not find something you didn't like! If you're not ready to commit to the boldness of a red front door, have you considered red gooseneck lighting as an alternative?

Mini gooseneck lights are quintessential as an exterior entryway light. Given their smaller proportions, they balance out larger entryways if you choose to flank either side of the door. You could even get away with mounting a single Barn Light Mini Roundup Shade by entry points of a charming Cape Cod style cottage. Add a decorative gooseneck arm, or keep it simple with the Mini Artesia Light. Mini gooseneck lights are an interesting take on wall sconces, with more room for customization to make your red gooseneck light unique to your style.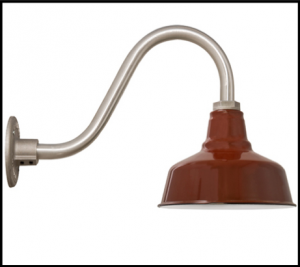 Now, if the customary shade of bright red on the mini barn lights is too much for your liking, we have an alternative. Our exclusive, American made porcelain enamel lights are a bit deeper in hue, similar to a classic barn red. The Goodrich® Esso Porcelain Gooseneck Light has a more traditional, industrial look. The warehouse shade is almost identical to those seen in vintage barns and factories of the past, while the raw brushed aluminum gooseneck arm offsets the appealing deep red enamel coating.
Whether you choose a mini barn light, porcelain enamel light, or even an industrial wall sconce, barn lighting is perfect for those looking for a small touch of red inside or outside their homes.