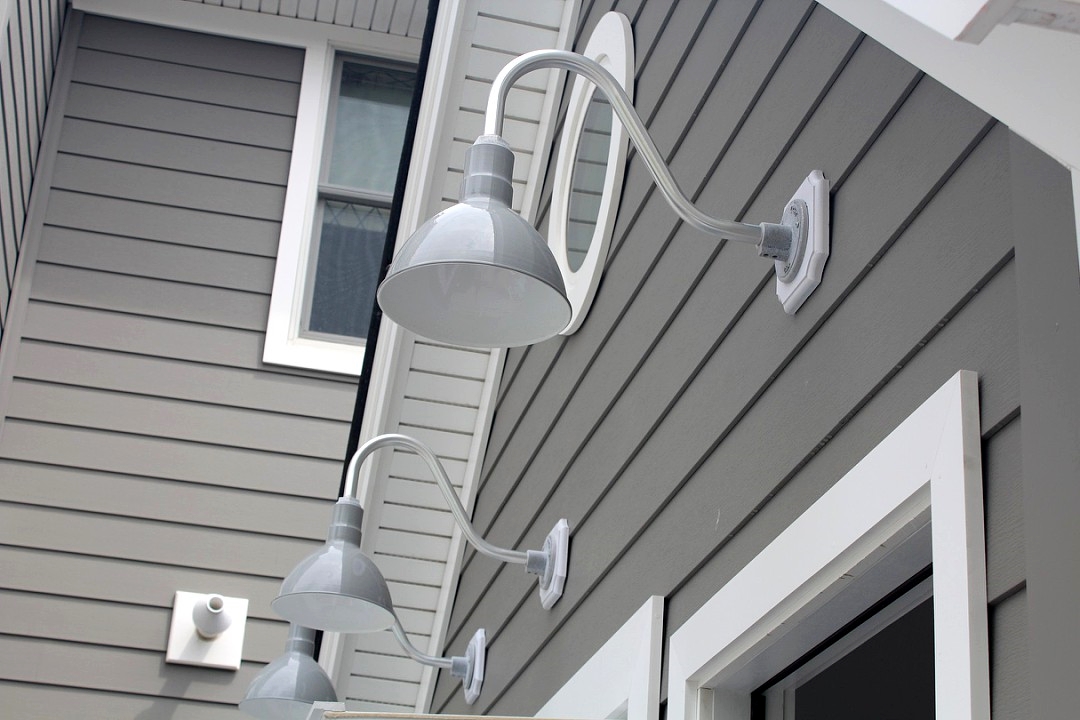 Curvaceous Gooseneck Lights for Jersey Pool House
When interior designer Alexa Ralff was searching for lighting for a project on the Jersey Shore, she remembered a wall sconce she had purchased previously from Barn Light Electric.
"I used a sconce from Barn Light Electric in a powder room and I couldn't get over the quality," Alexa says. "Solid, beautifully crafted, amazing customer service."
Alexa's current project was a 250-square-foot house with a surprise in the back yard — a long, narrow swimming pool with a pool house. The clients, a family of five, wanted a tiny home that could serve as party central where they can catch summer tennis on TV, nap on the couch, or sip a beer by the pool while the kids swim. Both the home and the pool house are sided in beach-friendly materials.
"We carried a beachy blue theme along the way with the fun, painted décor," Alexa says. "The mini kitchen inside has a blue, glass backsplash shaped like waves that was the launching point. I love color but decided to go for glossy gray goosenecks to add some fun to the exterior."
Alexa chose the Wilcox Gooseneck Light to highlight the door and bar area of the pool house. These American-made wall lights feature 10″ shades, an Industrial Gray finish, and G15 gooseneck arms.
"The garage door and pull-up window on the bar area are custom made and have a commercial look. The Wilcox seemed the perfect complement," Alexa notes. "I needed to make sure I was getting it right, and the customer service person talked me through the proper configuration."
Alexa was attracted to the Wilcox because of the softness in the curves of the shade. The 10″ size was the right scale to balance the door and the placement of lights over the window.
"My clients say that every guest swoons over the main house and then scream when they see the pool house," Alexa says. "It's so perfect and sweet and fun!"
Alexa, a Baltimore-based designer, has been in business since 2011 although she tackled her first remodel at age six — a top-to-bottom dollhouse makeover.
"I've always had a modern farmhouse vibe," she says. "I love a little gloss mixed with a traditional form. And I love age and historical pieces that tell a story." To see more of this project including some fabulous interior shots, check out this gallery from Alexa!
Photos courtesy of AHR Designs