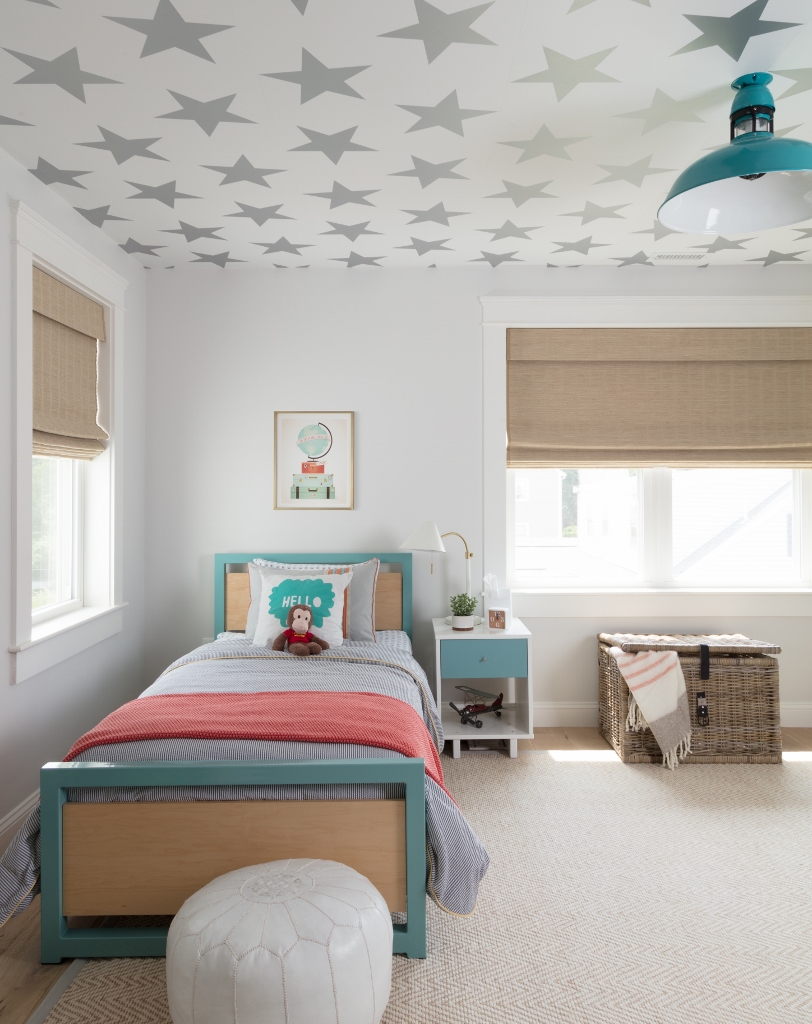 Barn Lights Provide Personality Plus to New Home
Building a new home requires countless decisions. From the moment pen touches paper to capture the first concept until the key turns the lock on the front door, choices are made for colors, materials, fixtures, finishes, and so much more. While creating a new home can be exciting and maybe even fun, it helps to have a professional guide you through the process.
Jamie Keskin, of Jamie Keskin Design in Massachusetts, recently helped a client navigate the myriad of decisions needed to create their dream home.
"I helped make all sorts of decisions from the initial space planning of the home to selecting finishes, paint colors, wallpaper, flooring, furniture, hardware, rugs, lighting, and accessories," Jamie says. "My clients appreciate good design and really have a passion for it, so they were great to work with."
Jamie helped the couple, whose design styles tend to differ, source items they both liked and that worked well together. Her initial thought was to create a modern farmhouse, and as each room evolved, the home became a relaxing, inviting, and eclectic space. For lighting, Jamie turned to Barn Light Electric to source quality, farmhouse-style lighting with modern options.
"I love all of Barn Light Electric's lighting," she notes. "It has that quintessential farmhouse/outdoor feel we were going for." For the front door, Jamie picked two Union Wall Sconces customized with 12″ shades and a Black finish.
"Black is classic and will never go out of style," Jamie explains. "It also pops nicely off the white house and you can see them from afar. They fit perfectly in the space." Nearby, the garage doors are highlighted with Original™ Warehouse Gooseneck Lights. These classic barn lights feature generous 18″ shades, Black finish, and Galvanized G22 gooseneck arms.
Inside the home, Jamie lent her magic touch to a kid's room by using star-covered wallpaper on the ceiling. The center of the space is anchored by a 20″ Outback Flush Mount Pendant in beautiful Teal.
"I stumbled upon this light and instantly fell in love with it!" Jamie says. "It looks like something you'd see on an old ship or in an old factory. The teal is such a fun pop of color and I love the guard detail of this light. I chose Black for the guard finish to make it stand out more."
Jamie continued the fun, outdoor feel into the kids' bathroom which has a wall of faux wood tile. The Austin Triple Vanity Light, with its three RLM shades, offers plenty of light to the trough sink.
"The kids' bathroom has an overall 'camp like' feel and this light is just perfect," Jamie notes. "It feels like an indoor/outdoor light that you would see in a camp bathroom, but the White finish keeps it modern and fun. It's just perfect!" Jamie's lighting choices helped add the character and farmhouse essence her clients were after.
"The lights have a timeless, retro feel to them yet they are contemporary, fresh, and fun," she says. "They add just the right amount of personality to each space." You can see more photos of this beautiful home at this link.
Photos courtesy of Jamie Keskin Design and Kyle J. Caldwell Photography