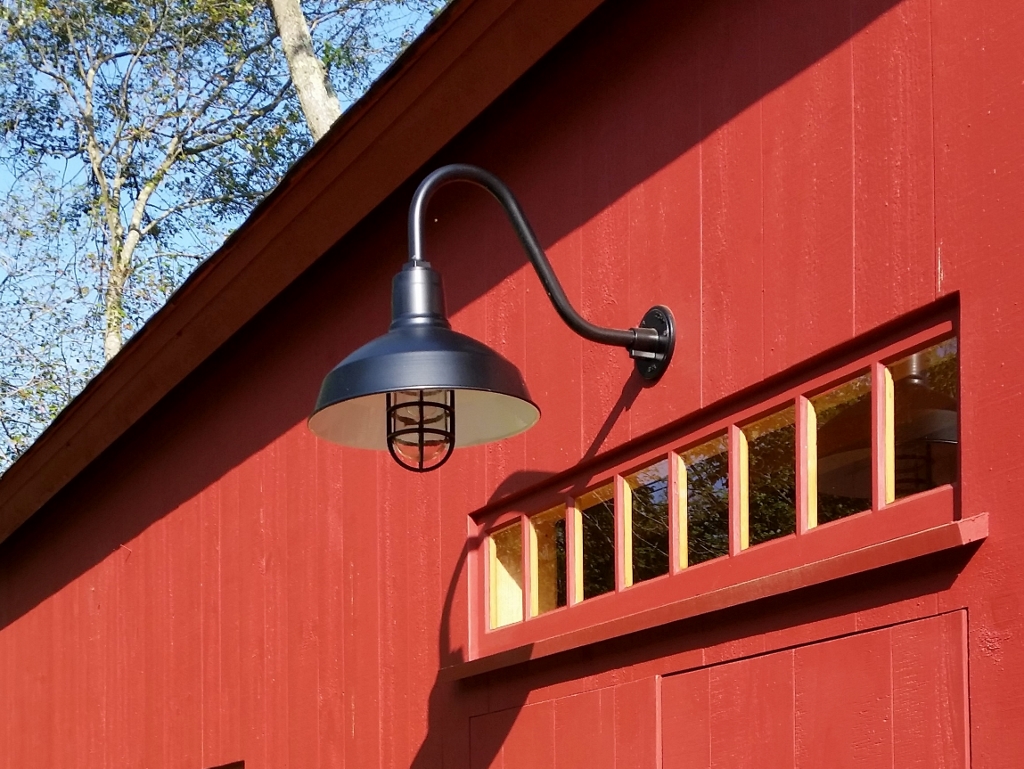 Barns & Barn Lights a Quintessential Match
Nothing says New England quite like a big, beautiful barn. And no one does barns quite like Country Carpenters, Inc.. Their New England-style structures feature not only solid, post-and-beam construction but many custom options like cupolas, swinging doors, and custom hardware. For the newest model on display at their headquarters in Hebron, Connecticut, General Manager Paul Baker chose classic barn lighting as the finishing touch.
"Aesthetics was at the top of our list of criteria for lighting," Paul says, "followed by American made. With the huge variety Barn Light Electric offers, there was no need to look anywhere else."
This particular barn measures 18 x 24 feet and features a large loft space. For the exterior, Paul chose the Dino Gooseneck Light with a 14″ shade. He customized this hand spun gooseneck light with a Black finish, G15 gooseneck arm, and a cast guard with clear glass.
"This lamp is appropriate because it's so in keeping with the style and period of our post-and-beam barns," Paul notes. "The finish color and gooseneck arm style harken back to the old New England barns our designs draw inspiration from."
Inside this model barn, the Brisbane Stem Mount Pendant takes center stage. These rugged, industrial ceiling lights feature a shallow bowl and cast guard and glass for reflected uplighting.
"These lamps really take us back to our rural past," Paul explains. "They are what we could have seen in the barn at Grandpa's house!" Paul customized these handcrafted pendants with 14″ shades, a Galvanized finish and 6″ stem. The Barn Red cast guard creates a vivid contrast and clear glass assures plenty of light.
"The guard color gives continuity to the barn red finish on so many of our buildings," Paul adds. "The Galvanized finish has that industrial feel. And barns, after all, are working buildings."
By the stairs, an Industrial Guard Sconce, in a matching Barn Red finish, not only provides light but serves as functional art in the recessed space.
"It's just so cool!" Paul says. "We love how all the lights look and our visitors love them too!"
Photos courtesy of Country Carpenters Inc.