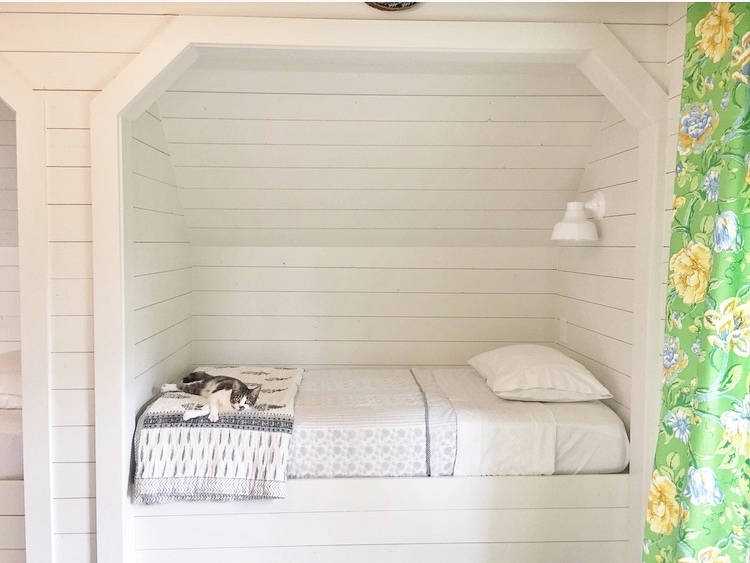 Wall-Hugging, Barn-Style Sconces for Attic Renovation
Have you been up to the attic lately? Is it a little-used space full of cobwebs, off-season clothes, and holiday decorations? That once described Sara's attic in her Gainesville, Georgia, home but she envisioned so much more for her 1,000-square-foot space.
"It was a great place for storage, but I felt it could function better as living space," she says. "The birth of our third child left us without a guest room, so we needed to incorporate a bedroom into our attic."
Although Sara wanted the space to have a cozy farmhouse feel, there wasn't much natural light even with a dormer window. A huge fan of Joanna Gaines, Sara chose white shiplap for the walls to help brighten the space.
Built-in bunks provide sleeping space and two Bowie Wall Sconces give each guest their own personal reading light. Sara customized these wall-hugging barn sconces with 8″ shades and White finish to complement the walls.
"The barn style fit perfectly with the farmhouse feel. I have always loved barn lighting so I was thrilled to finally incorporate it into our home," she explains. "Lighting is an important aspect when designing a space, and I always strive to incorporate light fixtures that bring out the character of the space."
The Bowie Wall Sconce is handcrafted in our Florida manufacturing facility and is available in two shade sizes and a variety of durable powder coat finish colors.
"The Bowie Wall Sconce is simple but brings in so much character," Sara notes. "The room itself has clean lines and the simplicity of the sconce fits in perfectly with the other elements in the room. I try to decorate our home with timeless design elements and I feel the Bowie Sconce fits that bill."
Thanks to its compact size, Sara doesn't worry about her guests or her boys hitting their heads on the low-profile sconces.
"Our boys are the biggest fans of the sconces, but I'm a close second!" she says. "They each claimed a bunk and think it's fun having their own personal light. We added light switches in each bunk so they can turn them off without getting up which they think is pretty special. It is a joy for me to see their excitement over the design elements I picked out."
Sara recently decided to turn her passion for interior design into a career, and the attic renovation played a major role in launching The Dutch Door Home. You can see more of this renovation on her website including in-progress photos and many of the colorful elements she incorporated to make this attic space both bright and beautiful!
Photos courtesy of The Dutch Door Home