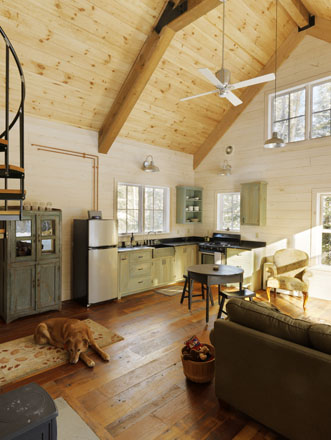 Professional's Corner | Vermont Cabin Presents Challenges, Rewards
Sometimes Eric and Phiona Milano of Vermont just want to get away with their young son to do some hiking and fishing. Luckily for them, at the end of the trail, through the woods, and over a small footbridge, there awaits a beautiful log cabin full of rustic charm and simple amenities that are perfect for their small family.

"The cabin is of new construction although we used some salvaged materials," explains architect Joan Heaton. The project presented a host of hurdles including a tight budget and a desire for eco-friendly building practices.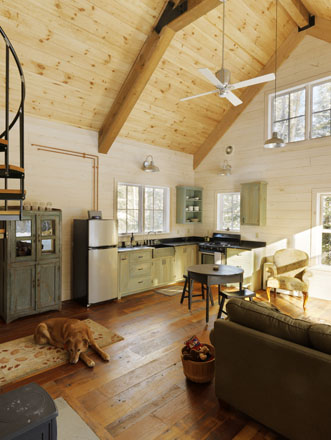 And, by the way, there's no road, just a winding wooded path and a footbridge over a river so all materials had to be hand-carried to the site. The result is a 600-square-foot structure with high ceilings, lots of windows, and plenty of warm wood from floor to ceiling. For the lighting, Heaton chose sconces, warehouse shades, and pendants to bring a unified look to the space.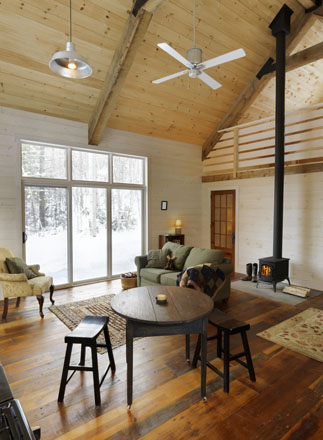 "The cabin is very open; you can see from one room to the next so it was important to me that the lighting be consistent," she says. "I often choose lights that are in a family — the same style in different sizes or applications like sconces and pendants." Heaton chose our Austin Sconce, the Original Warehouse Shade Gooseneck, and the Barn Light Warehouse Pendant in a galvanized finish to complement the rustic nature of the home.
"The galvanized, barn-style lighting was the right look and price point for the project," Heaton explains. "I wanted something that had clean lines that was compatible with the other finishes and affordable." For heat, the main room has a wood stove so Heaton also installed a matching galvanized ceiling fan available exclusively from Barn Light Electric. The fan helps circulate the heat from the stove throughout the cabin and to the loft space above. This one-of-a-kind fan is the perfect finishing touch for the Milano family's beautiful slice of heaven on earth!
Photos by Susan Teare