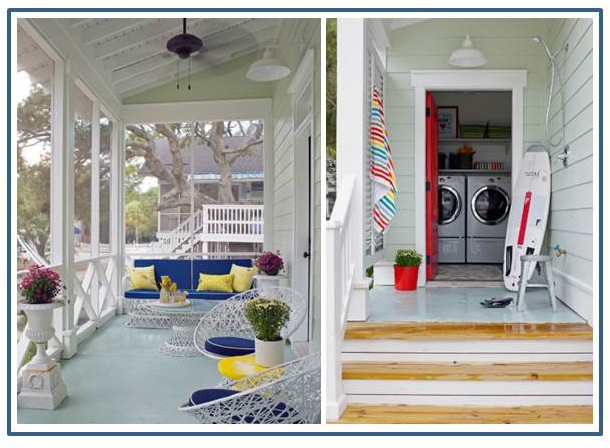 Professional's Corner | Gooseneck Farm Light for Island Beach Home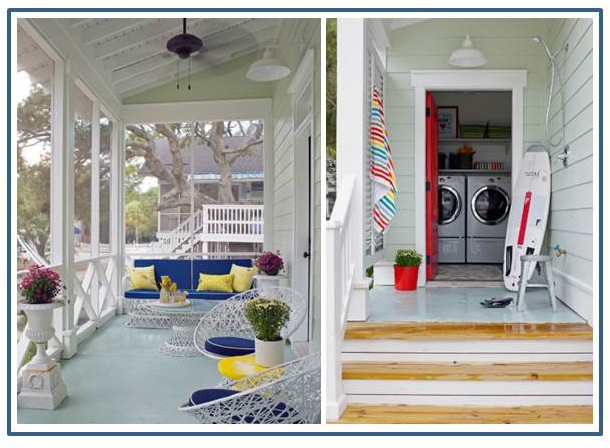 Just 18 miles due east of the Hostess City of the South, aka Savannah, Georgia, lies stunning Tybee Island, a barrier island rich in history and natural beauty. The architecture on the island is often casual and beachy as shown by this inviting home designed by our friends at Rethink Design Studio. The firm, founded in 2005 by husband-and-wife team Joel and Erika Snayd, has a reputation for producing fresh and inspired interiors and architectural designs. They also offer design services in furniture, textile, lighting, and graphic design.

This two-story beach house features an open floor plan to allow for large family gatherings. The screened-in porch, with its relaxing palette of seafoam green and white, is a popular place to escape the bugs and enjoy a cool breeze courtesy of the ceiling fan. And this conveniently located outdoor shower and laundry room allows you to leave all the sand outdoors and have a spot to deposit damp clothes before entering the house proper. For the lighting in both spots, the Snayds chose our 15″ All Weather Gooseneck Farm Light Wall Mount in a white finish.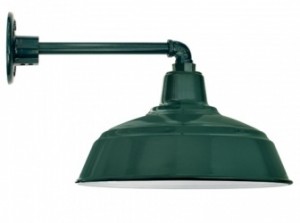 The All Weather Gooseneck Farm Light, part of our collection of Discount Barn Lighting, is an ideal, low-cost alternative to any of our larger warehouse lights. American made by our own craftsmen, these lights are created with the same quality materials you've come to expect from Barn Light Electric products. To keep costs down, we have reduced the number of options for these fixtures. You still have a choice of five popular finish colors and, as an added bonus, these fixtures are kept in stock and most will ship within 5 business days!
Many of the fixtures in our line of Discount Barn Lighting are quick-ship items which makes them very valuable for commercial lighting projects that often face a tight schedule. If you need an excellent selection of quality lighting in a hurry, be sure to browse the entire selection!
Top photos courtesy of Rethink Design Studio