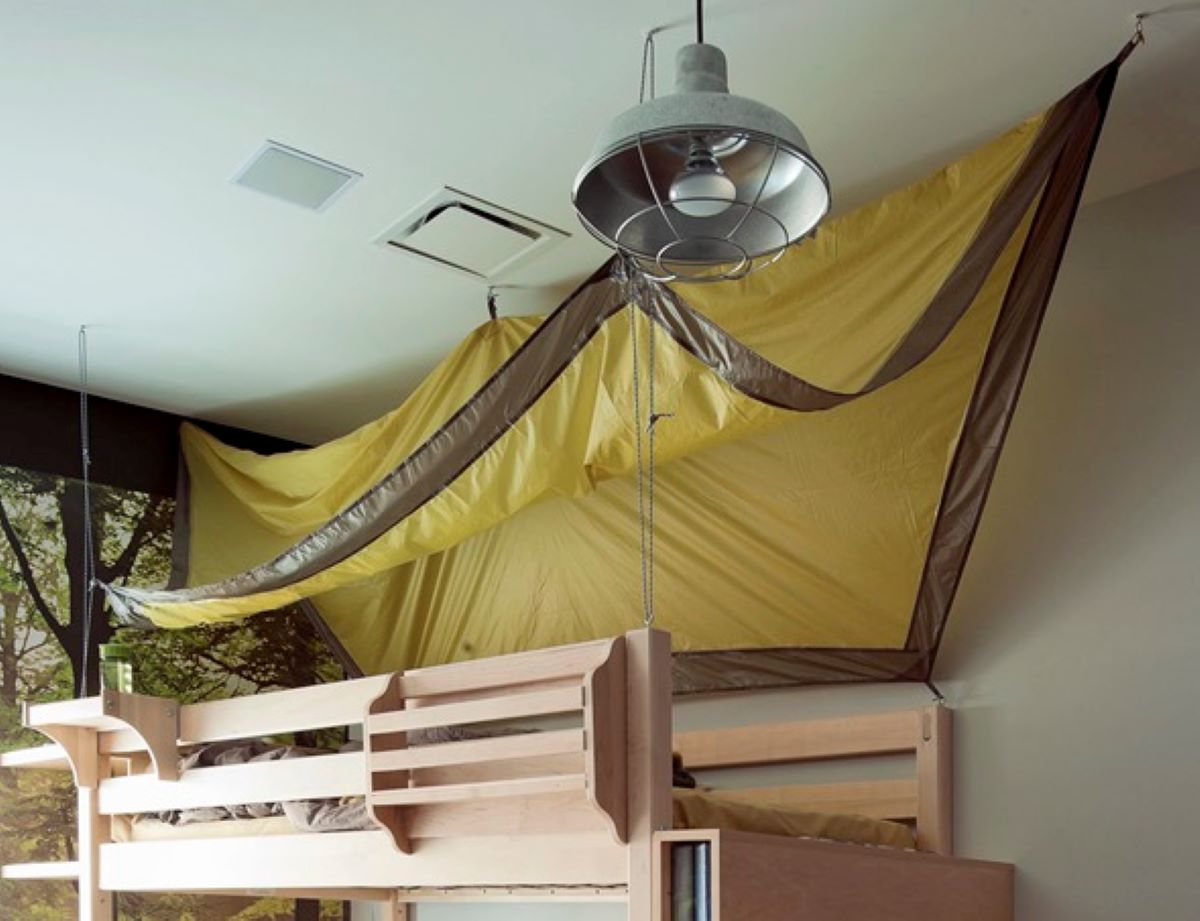 Barn Light Original Pendant for Urban Tree House Hideaway
Creating a child's space must be one of the most fun design jobs out there. What's not to love about a room where you can be creative and colorful and try things that just won't fly in the formal living room!
Tamara Hubinsky of Tamara H Design in New York turned her thoughtful eye to a child's room in a Manhattan apartment during a remodeling project. The building dates back to the 19th century and this particular space had not been remodeled in close to 20 years.
"The boy was nine years old at the time of this design, but I took great care to design a space that would work for an older boy as well," Tamara says. "I think it's important that kids' spaces evolve and never speak down to a child." Tamara called her design an Urban Tree House Getaway and she selected furniture, color, lighting, and accessories that give a hip and funky, yet calm and smart feel to the space.
For lighting this narrow room, Tamara chose a classic cord-hung pendant, the Original™ Warehouse Pendant Light hand crafted by Barn Light Electric.
"I wanted something that made a bit of a statement in this high-ceilinged room," Tamara notes. "At the same time, I wanted a piece that looked and was functional, was not precious in appearance, and still felt visually light." She customized this American-made barn pendant with a 14″ shade, a Galvanized finish, a wire cage, and standard black cord.
"I was really excited about the galvanized finish," she says. "It reminded me of a shop light, but in no way did it try to be something that it wasn't." The room is colorful, but muted with modern touches, and the galvanized metal works well with the color scheme of greys, greens, and yellows. Whimsical touches like the tent canopy and the stone stair treads add to the room's light-hearted feel.
"The wire cage is a fun touch and absolutely necessary in a boy's room where — for better or worse — objects fly through the air quite frequently," Tamara says. Finding her inspiration by being a keen observer, Tamara created the tree house design when she heard the boy make reference to a hideout where he could spy on his sister. From there, she was inspired by the many examples in children's literature of tree houses where children go to play, daydream, and stash away treasured objects.
"I wanted a space that was not too fantastical, that felt sturdy, safe, calm, and functional," Tamara notes. "The barn light was a particularly functional choice. The best aspect of the light is its simplicity and its rugged lightness."
Photos courtesy of Matthew Williams and Tamara H Design