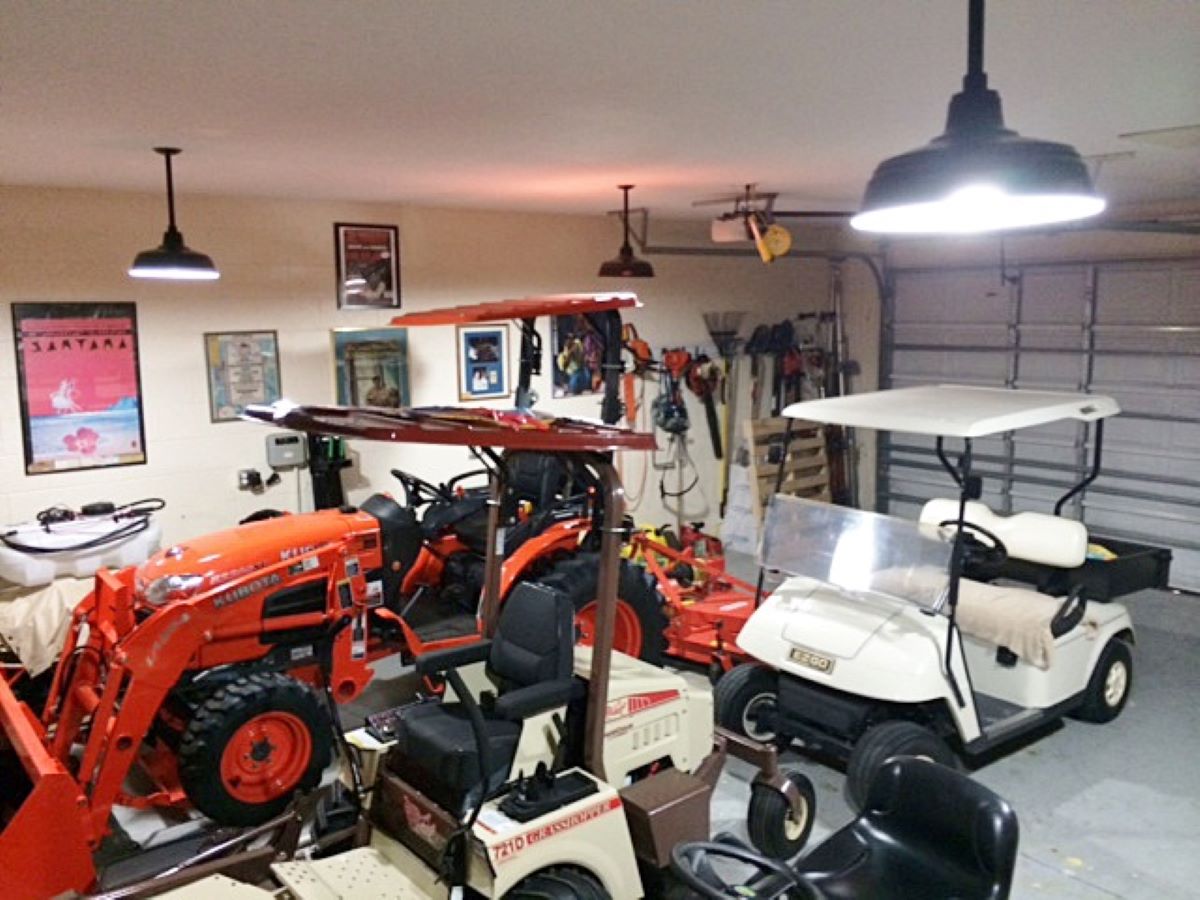 Discount Barn Lighting Replaces Troublesome Fluorescent Fixtures
I don't know about anyone else, but I'm ready for spring. Ready to throw open the windows and let fresh air in, ready to wear flip flops every day, and ready to clean my garage from top to bottom. Nothing makes me happier than making our garage a space that we can actually use.
If you're looking for a little garage inspiration, Ron from Mims, Florida, sent us some photos of his garage after he recently upgraded the lighting.
"I wanted to replace the uninspiring and troublesome fluorescent lighting with something that better fits the space and my style," Ron says. "My shop is my sanctuary and I despise normal shop lights. Barn Light Electric stem mount lights are a classic style."
Ron chose the All Weather Farm Light Stem Mount Pendant in a 13″ shade with a Black finish to light up his garage. These rugged ceiling lights are part of our Discount Barn Lighting collection and are offered in four shade sizes. These American-made barn lights are made from the same commercial-grade materials as our signature barn lights but to save money, we offer slightly fewer options. These classic stem mount pendants come in five traditional finish colors including Black, White, Dark Green, Rust, and Galvanized.
"I love the look and black is always a great contrast to the white ceiling," Ron says. "I spend a lot of time in my garage working, creating projects, or just listening to music and I need the right atmosphere for that."
Rated for wet locations, this durable ceiling pendant can be used indoors or out. The fixture can handle up to a 200 watt bulb which reflects well from the white interior on Ron's black fixtures.
This is not Ron's first purchase from Barn Light Electric. He was featured about a year ago in a blog post featuring his gorgeous new patio where he hung two Aero Stem Mount Pendants.
"I always try to buy locally and American made so when I saw you were in Titusville, I had to have them. I am Barn Light Electric's biggest fan and promoter locally to anyone who is interested," Ron says. "The lights are simple, elegant, well made, and do the job exceptionally well."
Photos courtesy of the homeowner