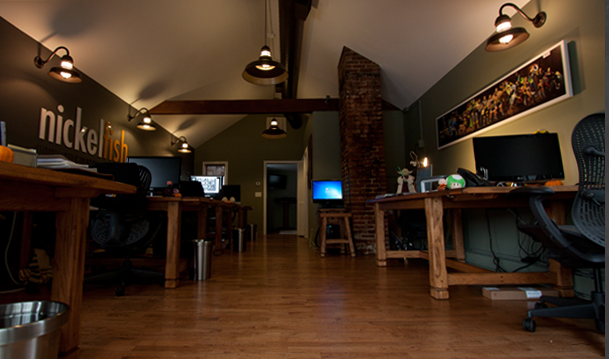 Professional Projects | Pendants, Goosenecks, Flush Mounts, Oh My!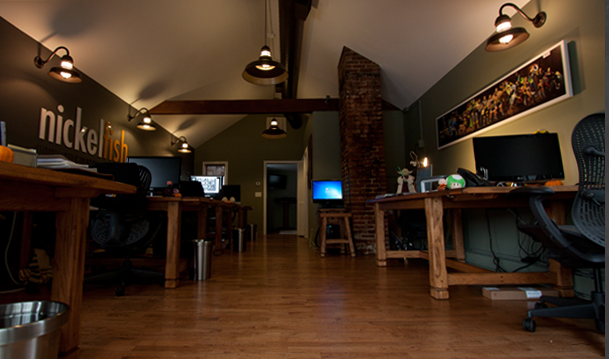 Way back in the early 1800s, New Jersey was known more for its rich, rolling farmlands and gracious estates than being a gateway to New York City. One stately country home was built in 1815, and over the decades it was, no doubt, remodeled and renovated by each successive owner. Today, Nickelfish Interactive Design and Marketing (NFIDM) calls the old place home and recently gave the space a vintage facelift with new barn lights throughout.
The structure, once known as the Thomas Wolfe House, sits in the Mendham, New Jersey Historic Business District and looks very much as it did in the 1930s when the first traces of barn lights were being manufactured.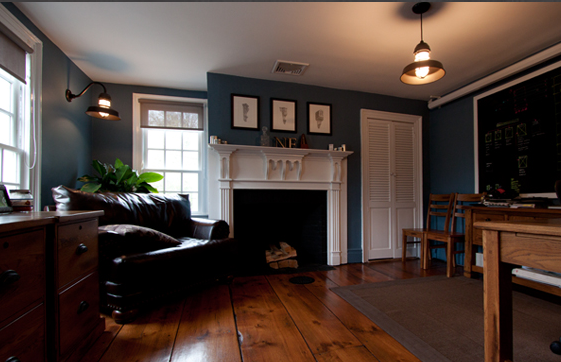 "We've taken over two thirds of the house and have renovated everything to appropriate office spaces that reflect our company's personality," says Brian Bieniowski, executive producer for Nickelfish. The group chose 12″ Outback Warehouse Shades with gooseneck arms for several rooms and the coordinating look of the 18″ Outback Warehouse Pendant. The Outback has an open neck design above the shade which allows light to filter out over the top of the shade for a unique look. For the tighter spaces of the hallways, the Spokane Flush Mount Light in Old Bronze lights the way without being obtrusive.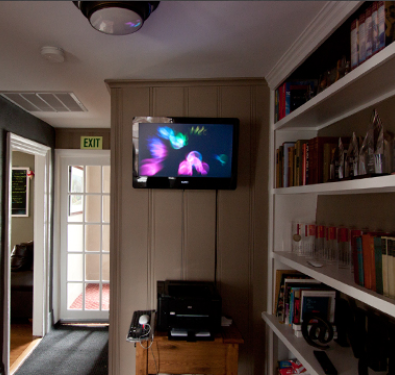 "We wanted a vintage-inspired and rustic look to the lighting in the office," Brian says. "Much of downtown Mendham has a country farm look and feel, and we wanted to try to bring that atmosphere into our eclectic office environment." The office space definitely has the look of an old home with the fireplaces, brick chimneys, and a farm kitchen, but with the addition of vibrant color on the walls, leather furniture, and vintage barn lights, the result is a classic look.
"I could not find any other vendor with the types of fixtures you have for sale, so it was a no-brainer to pick out our favorites and have them installed," Bieniowski adds.
Photos courtesy of Nikki Loveland